Research & Facilities
Teaching Facilities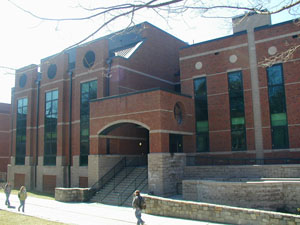 The Department of Biology offers classes and instructional laboratories in the Rankin Science Building complex.
Laboratory instruction is integral to most of the Department's courses and the Department utilizes eleven teaching laboratories and one computer laboratory for this purpose. These laboratories are designed and equipped for a 24 student capacity, but many upper level Biology laboratory sections are limited to fewer students , providing higher quality student-teacher interactions
Teaching is supported within the Rankin Science complex by the availability of the College of Arts and Sciences' Dewel Microscopy Center and the Animal Care Facility. Biological specimen collections are also available to support teaching of botany, plant systematics and taxonomy, mammalogy, ornithology, ichthyology, herpetology, invertebrate zoology, and entomology. The Department's Greenhouse provides integral teaching support for many classes through use of its facilities and by culturing a broad taxonomic array of live plant specimens. Natural areas (see below) managed by the Department and extensive local public lands provide field locations for many ecological and environmental laboratory activities.
Research Facilities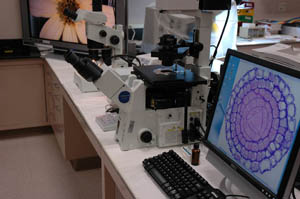 The Department of Biology has twenty-three specialized laboratories to support a wide range of research activities.
Faculty and students utilize these laboratories for the research on plant ecophysiology, plant-animal interactions, animal physiology, molecular biology, microbiology and virology, behavioral ecology, mycology, immunology, cell biology, developmental biology, parasitology, freshwater and marine ecology, molecular systematics, conservation biology, conservation genetics, endocrinology, science education, biogeography, evolutionary biology, environmental toxicology, ecosystem ecology, and landscape ecology.
Multiple specialized facilities and natural areas are integral to faculty and student research in the Department of Biology. These include:


The microscopy facility houses an array of digital light microscopes, a Zeiss 510 laser scanning confocal microscope, a Quanta 200 environmental scanning electron microscope, an Olympus IX81/DP71 optical microscope, a Polaron sputter coater and critical point dryer, and other ancillary equipment for sample preparation. A full-time director of the facility provides both academic and technical support services.


The North Carolina Research Campus is a mixed-use, biotechnology research facility located in downtown Kannapolis, North Carolina, approximately 20 miles northeast of downtown Charlotte. Appalachian operates two laboratories at the NCRC, and collaborates with researchers across the campus. The mission of the AppState NCRC HPL is to investigate unique nutritional products as countermeasures to exercise- and obesity-induced immune dysfunction, inflammation, illness, and oxidative stress. Research funding is provided through multiple industry partners, including Gatorade/PepsiCo, Coca-Cola, General Mills, Gatorade, Blueberry Council, Penta Water, Quercegen Pharma, Cooper Concepts, McCormick Spice, Dole Foods, Reoxcyn Discoveries Group, Biothera, Direct Digital, Gaia Herbs, and Metagenics.


Vivarium
This state-of-the-art center maintains small research animals in multiple rearing rooms, including a zebra fish rearing facility. It is also equipped with facilities for animal behavior work in enclosed environments.


Scientific Computing and Visualization Laboratory
This new and developing facility currently houses one Linux workstation (dual quad core processors, 24 GB RAM, 600 GB hard drive) with dual 30" monitors, two high-end graphics rendering machines with dual monitors, two medium-end workstations with dual monitors, one Mac Pro workstation (dual quad core processors, 16 GB RAM, 1 TB hard drive) with dual 30" monitors, two large format wall-mounted LCD displays, and various supporting equipment, In addition, faculty and students have access to supercomputing facilities within the UNC System.


While several inpidual faculty members maintain biological collections for specific research purposes, the most extensive research collection is housed in the I.W. Carpenter Herbarium. The Herbarium is both a local and regional resource for botanical research, housing approximately 25,000 specimens, largely representing both common and endangered plant species from the Southern Appalachians and high elevation wetlands in the Blue Ridge Mountains of North Carolina. The adjacent Anthony H. Payne Botany Laboratory uses the herbarium as a research and teaching tool.


Our greenhouse is located about 2 miles from the main campus. A 3,125 square foot facility, it has two separate research houses, a propagation house, and a large conservatory that houses a teaching/display collection, all connected to a head house which contains the manager's office, preparation and storage rooms, and a laboratory/teaching classroom. An additional 1,000 square feet of space is available outside the greenhouse for research and teaching. A full-time botanist, Jerry Meyer (meyerja@appstate.edu), oversees the greenhouse and is available to assist faculty and students. Mr. Meyer also provides information, consultations and botanical workshops to businesses and the general public.


The Appalachian State University Nature Preserve consists of 67 acres of protected woodlands in the heart of the campus. There are two headwater streams and a small pond in the Preserve. The Preserve is interlaced with a network of hiking trails. There are several plant communities in various successional stages that are utilized by the faculty and students in the Biology Department. In addition to research, the Preserve affords Appalachian students the unique opportunity of being able to walk to sites for outdoor labs in introductory and upper division biology classes; the site is used in several graduate level courses as well.


The Robert Gilley Field Station is over 250 acres and extends along a section of the South Fork of the New River in Watauga County, North Carolina. Plant communities include a mature oak forest, a selectively cut hardwood forest, an old field undergoing secondary succession, and mixed hardwood forests. The last habitat contains an Appalachian endemic, the Carolina Hemlock. There is a high persity of spring wildflowers on the slopes above the New River. Some ongoing projects at the Gilley Field Station include soil ecology research, extensive plant canopy analysis, an examination of plant-insect interactions in a common garden experiment, and a planted persity of dogwood species from temperate regions around the world that have been characterized at a molecular level.


The North Carolina Research Campus is a thriving and world-class research center located on 350 acres just north of Charlotte, NC. At the NCRC, corporations, universities, and healthcare organizations have forged a public-private partnership that is transforming science at the intersection of human health, nutrition and agriculture. The mission of the NCRC is to improve human health through innovative research in all aspects of nutrition, exercise, and other lifestyle areas. The David H. Murdock Research Institute (DHMRI) at the NCRC is a nonprofit research institute that provides high quality laboratory services to the NCRC. The DHMRI and university campus partners provide a comprehensive research environment with internationally renowned investigators and well-equipped laboratories and core facilities (including animal care, genomics, proteomics, metabolomics, clinical medical research support, metabolic chamber, NMR, body composition instrumentation, and much more).