Biology Greenhouse
Welcome to the Biology Greenhouse at Appalachian State

The Greenhouse and staff support a wide variety of outreach, teaching, basic and applied research efforts.
We're located off of State Farm Road at
211 Dale Street
Boone, North Carolina 28607.
Here's a map to help you find us.
Take a Virtual Tour of the Greenhouse
High Country Gardening - A Monthly Series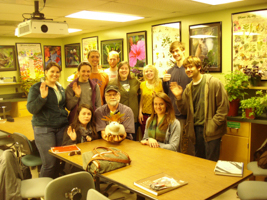 We at the Appalachian State University Biology Greenhouse wish to share our passion, knowledge and experience in ornamental horticulture. To that end, we have created a monthly class called High Country Gardening. Our goal is to enable and embolden those new to gardening and offer some perspective for more advanced gardeners. A wide range of classes are offered in ornamental horticulture, including classes devoted to trees, shrubs, perennials, North Carolina native wildflowers, as well as the selection and care of tropical species.
Classes are generally held on the second or third Saturday of the month and run from 9:30 a.m. to 11:15 a.m.. Some classes fill up quickly, so it's prudent to sign up as soon as possible by email, preferably, at meyerja@appstate.edu, or calling 828-262-4025. Please ask to be added to our distribution list and you will receive any announcement about classes for the balance of this year. (This series has been postponed until further notice, check back for future dates).
Biannual Plant Sales
The greenhouse holds two plant sales each year.
In May, tropicals, annuals and vegetables are sold. The September sale features tropicals and hardy perennials.
Student and community volunteers do most of the growing. Your support is appreciated!
For dates, see the 'High Country Gardening' schedule.
One of our plant sale highlights for the past few years has been Venus Flytraps that were grown by Dr. Annkatrin Rose and her students. She'll show you how to feed your flytraps in this video:
Volunteer Opportunities
Would you like to work with tropical plants from around the world?
Opportunities exist for volunteering. Anyone interested in plants is welcome.
For area Master Gardeners, your experience at our facility is an approved way to earn volunteer hours.
If interested, please call, visit, or email us.
Reserving the Greenhouse
Faculty are welcome to bring classes to the greenhouse, and research projects that require the greenhouse are encouraged!
A space request form must be filled out in advance.
Biology Greenhouse Space Request Form (Fillable PDF, 128 KB)
The Conservatory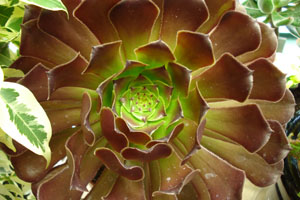 Our conservatory holds more than 800 species across more than 100 families. The plants in the collection are used for multiple purposes. A number of volunteers help keep the conservatory clean and plants happy. You are welcome to visit Monday-Friday 8-4 with or without an appointment. Eventually there will be photos of all plants in the collection. Stay tuned.
Conservatory inventory (XLSX, 168 KB)
Conservatory photos (coming soon)
Conservatory Tours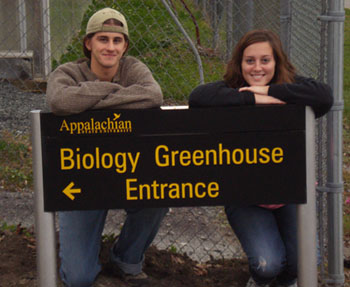 Please note: Conservatory tours have been suspended until further notice.
By prearrangement, the greenhouse offers group tours of the conservatory, which now holds over 1200 species of plants from around the world. Group size should be limited to fifteen people.
When tours are available, you are welcome to tour the conservatory between 7 a.m. and 3:30 p.m. Monday through Friday.