Appalachian State University Nature Preserve
Appalachian State University Nature Preserve
The Appalachian State University Nature Preserve consists of 67 acres of protected woodlands located by the heart of campus. The land was dedicated as a State Natural Area in 1999 through the North Carolina Nature Preserves Act, and serves as an outdoor classroom for students and faculty. The primary purposes of the preserve are to enable conservation, education and recreation for students, staff, and faculty.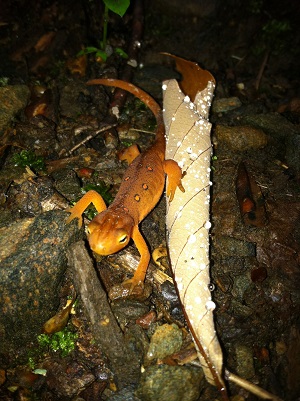 The preserve is the largest contiguous forested area within the Town of Boone boundaries. The mixed hardwood forest and herbaceous community are representative of southern Appalachian flora and provide a home for hundreds of native species
Most of the forest is secondary growth that has recovered from historic deforestation and contains species indicative of Acidic Cove and Montane Seep communities. It also has several invasive species that are common in forest fragments surrounded by urban areas. The preserve contains two headwater streams. These small, spring-fed creeks feed a main channel that flows from north to south and ultimately lead to the South Fork of the New River. You can take a virtual tour of the Nature Preserve here and here.
The preserve is used by a wide group of university community members from across all disciplines. The founding articles of dedication protect this land for the foreseeable future and prohibit significant disturbance. Please help us protect the area by adhering to the usage rules posted below. For more information, please contact bio_preserve@appstate.edu.

Appalachian Nature Preserve Usage Rules
As a state-designated natural area, the preserve has additional rules to ensure long-term
protection of natural resources. We encourage you to enjoy the Preserve, but follow these
rules to do so in a sustainable way:
Stay on trails. Trails are intended to protect sensitive areas.
Current trails are designated for hiking only; none are developed for cycling at this time.
Motorized vehicles are prohibited.
The cutting or removal of plants, dead or alive, or the disturbance of other natural resources is prohibited.
No camping or fires
Any person wishing to engage in activities requiring collection or otherwise disturbing the preserve must first secure written permission. Please contact the Department of Biology at bio_preserve@appstate.edu.