Fall Color Report for Week of September 29, 2018
I am back from my two-day foray to the Smokies and my trip on the Blue Ridge Parkway. To get right to the point of my fall color postings I can state that everywhere and I mean everywhere, along the Parkway, the dominant color was GREEN. Usually by this time of the year, the upper elevations above 5,000' have significant color, and these high elevations often show their peak color at this time. However, this year, color development is way behind normal. Only some birches and mountain maples have started to change in a significant manner, and then only in isolated patches here and there.
I'll post an album of photos from the trip once I get them downloaded and labeled. Saturday was beautiful, with dramatic clouds against an azure blue sky, but today (Sunday) was mostly a bust – foggy and rainy. Temperatures are forecast to remain far above normal for the next week at least. If these high temperatures persist too far into the fall color season, not only will colors be delayed, but they might be far reduced in quality. Some trees, like red maples and tulip poplars, may simply drop their leaves before they develop significant color, resulting in a fall color display somewhat like last year, which also had above normal fall temperatures.
There was no color development at all in the Smokies or around Gatlinburg. On the initial portion of the Park road that goes up to Newfound Gap, you can still see the devastation from the wildfires of two years ago, with lots of dead trees on the upper slopes. Those fire scars will take decades to disappear.
After crossing over the Park I descended down toward Cherokee, NC. I couldn't park and take photos at Newfound Gap because it was too crowded and there were no parking spaces. Also, the Clingmans Dome road was closed because it was being used as a staging area to look for a hiker who disappeared last Tuesday. As of Sunday she had still not been found. This emphasizes an important point – never hike alone! Always have someone with you in case something happens.
Just past the Park visitor center on the NC side of the Park is where the Blue Ridge Parkway starts. I got on there and head to Waterrock Knob, which is just a few miles north of the intersection with Rt. 19. If you got off there, Rt. 19 would take you to Maggie Valley. The Waterrock Knob area has restrooms and a visitor center. There is a short half-mile hike to a nice overlook that you should consider doing. However, be forewarned that it is straight up, so take breaks, wear shoes with good soles (no slippery ones!), and you'll be rewarded with great views from the top. The most spectacular plant on this trail on Saturday was the witch hobble, which was in the middle of coloring up. See the album for pictures.
As I was leaving this site, I noticed some flowers in the grassy meadow that lies in the middle of the parking area. These flowers belong to a native orchid, which is something you might not expect in a mowed and maintained lawn area! I think these are Nodding Ladies' Tresses (Spiranthes cernua), one of the most common mountain orchids.
On Sunday, I headed to Graveyards Fields, but it was foggy and rainy. Prior to this, I stopped at the Devil's Courthouse, which is a few miles south of Graveyards. You can hike a paved path up to a walled-in lookout at the top. As with Waterrock, it is mostly straight up, and again calls for shoes with soles that grip to avoid slipping on wet rocks and leaves. The first two-thirds of the trail is paved, and if you pace yourself, it is not too strenuous. There are rare plants in the surrounding woods and peregrine falcons that nest on the cliffs. Because of this, you are requested to stay on the trails so you don't endanger either the plants of falcons. If you have good weather, you will be rewarded with great views.
I then headed north to Graveyards. You can take a short 0.2 mile hike to the lower waterfalls. The first portion of the trail is paved. If you cross the stream, and continue on the trail to the right, much of which is a boardwalk, it will take you to a view of the falls from the bottom. I apologize for my pictures from here, but in the middle of my hike, it began to rain very hard, and I got soaked and I wasn't able to get very good pictures. You can also take a longer hike (about 3.2 miles roundtrip) to see another falls here. Be forewarned that this is a popular place and the parking lot can fill up quickly. There are restrooms.
Lastly, I headed back to Boone. It was so rainy that I abandoned plans to see Craggy Gardens.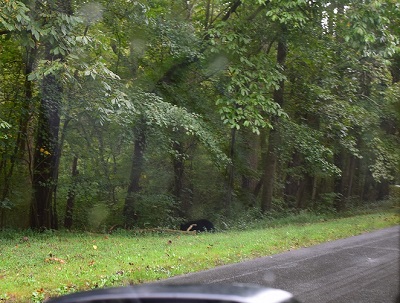 As I exited the Parkway at Rt. 74A, a large black bear crossed the road in front of me. By the time I got over my surprise and got my camera turned on, I could only catch his/her rear end as it ran into the woods on the side of the road. Exciting!
Hope for colder weather – soon!