Fall Color Report for Week of September 22, 2019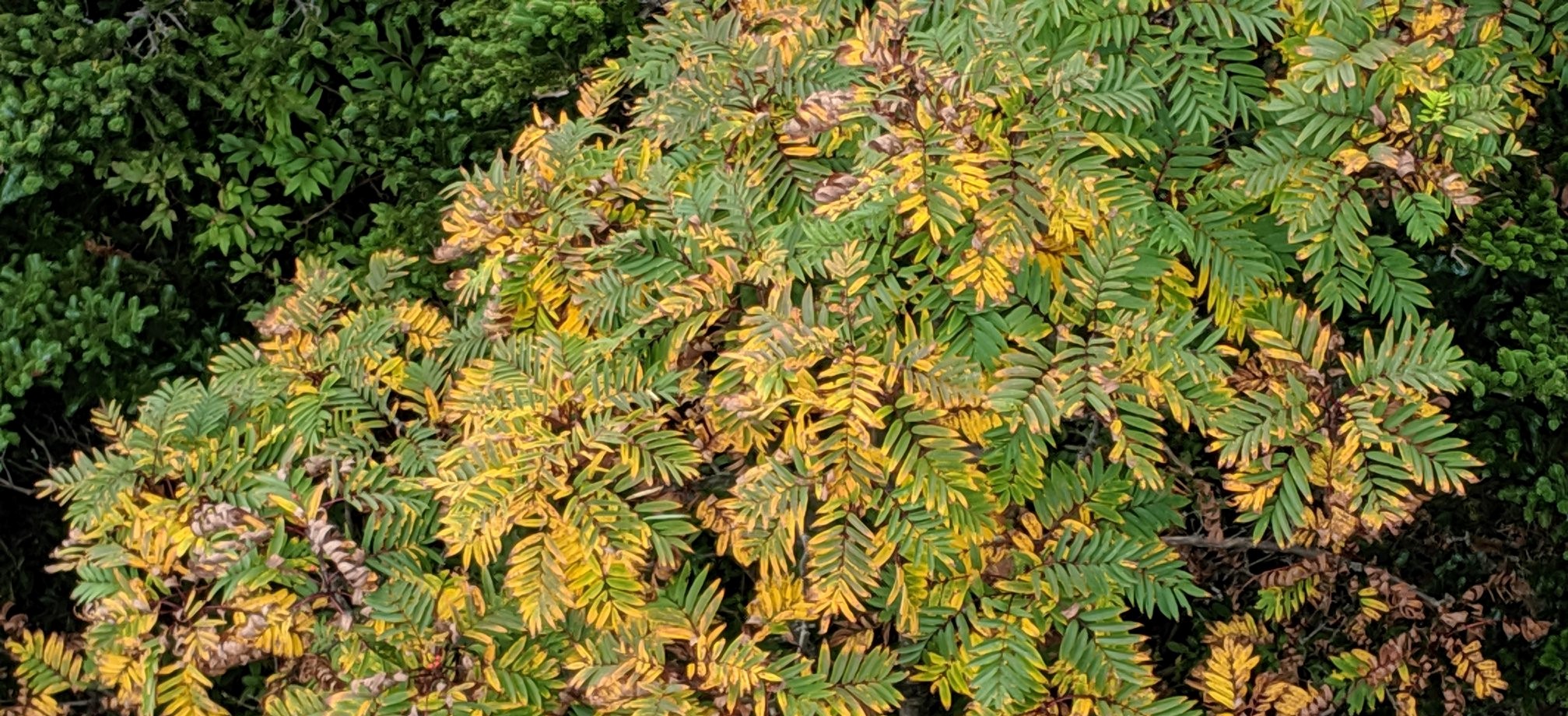 Yesterday, Saturday, Sep 21, I went to Grandfather Mt as part of a social outing for the PIedmont Chapter of the American Chemical Society and also to scout out the fall leaf colors.
Colors are starting to appear at the highest elevations. Out of scale of 1-10, I'd say the colors are between 1 and 2 now, but they are definitely visible to the eye.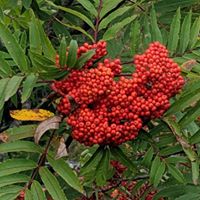 Mt. Ash (Sorbus aucuparia) fruits are on full display - a brilliant red-orange color that is spectacular when viewed against an azure sky. Last year was a bad year this species, with few if any fruits, but they have rebounded this year. They will be on peak display for the next two weeks or so before falling off. You can find them at or above 4,000' elevation all along the Parkway and in open areas. The foliage of this species turns a dull yellow, and is not much to look at. But the fruits - super!
Yellow buckeyes (Aesculus octandra) are losing their leaves now, which is normal for them. They are early to bud in the spring and early to drop in the fall. But don't look for any great color - they yellow up, turn blackish brown, and fall off.
Tulip poplars and birches continue to yellow and drop their leaves due to drought. Nearly five weeks now without significant rainfall. But it takes a long time for other species to show signs of drought, so I don't think this will have a major impact on colors this year.
Some maples are beginning to color up at the tips of their branches, as are dogwoods and sourwoods. Sassafras on rock outcrops are in full color, which is early for them, and most likely a drought effect.
So, the colors are starting. We're having warm days, but cool mornings (it was in the 40s here the other morning and low 50s this morning). I think cool nights and mornings are important for color development, even if we have warm afternoon temperatures, so although it's supposed to be warm for the next few weeks, I think we'll still get decent colors this fall.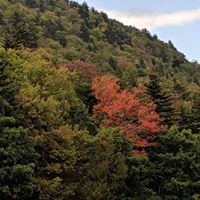 That does it for this week. An album of pictures from my trip yesterday is available here. If you are deciding to come to Grandfather Mt., one of the, if not THE most visited state park in NC, be aware that crowds are already building up. Come during the week instead of on the weekend and avoid long lines. If you can only come up on the weekends, then get to the mountain early, otherwise you will be sitting in a long line of cars waiting to get in ( and the wait can range from 30 mins to 2 hrs!!). But do come. Grandfather is one of the most beautiful mountains in the United States