Fall Color Report for Week of September 2, 2018
This week has been quite warm, with above average temperatures. We've also had sporadic rain storms, including yesterday and today. My wife and I got rained out of our hike to Beacon Heights on Saturday, but we managed to squeeze in the Flat Rock Trail before the heavens gave way.
Today we had rain from 9 am until the early evening, including a whopper thunderstorm. This year has had interesting weather – we get thunderstorms, but with very little wind; just drenching rains. Last year, I had to water plants on my front patio about every other day. This year, since May, I've only watered the plants twice all summer! I'm a little worried about all the rain, but there is plenty of time for it to cool off and get sunny, which brings out our best colors.
There have been a few changes from last week's report. The yellow buckeyes (Aesculus octandra) are accelerating their leaf color changes and you can spot them along roadsides as you drive by, or when you are hiking in the woods. The same can be said for sourwood trees (Oxydendrum arboretum), which are developing deep red leaves now. When displayed against their white sprays of downward-hanging fruits, these trees can be among the most colorful in the south. One of my favorite fall color trees!
The striped maples (Acer pensylvanicum) have started to change leaf color. They turn a dull yellow, with the veins remaining green until the end. These are small, understory trees with large tri-lobed leaves, and the bark often has white stripes splayed on its green to gray bark, hence its name. In exposed areas, like the rock outcrops at Beacon Heights and Flat Rock Trails, the huckleberries and blue berries, along with choke cherries (Aronia melanocarpa), are already turning colors. The blueberries and huckleberries turn a deep burgundy color, while the choke cherry gets bright reddish/orange leaves. Both have dark blue to black blueberry-sized fruits.
Sassafras (Sassafras albidum) has started changing also. It has interesting leaves that come in a variety of shapes: one is a simple ovoid shape, another is shaped like a mitten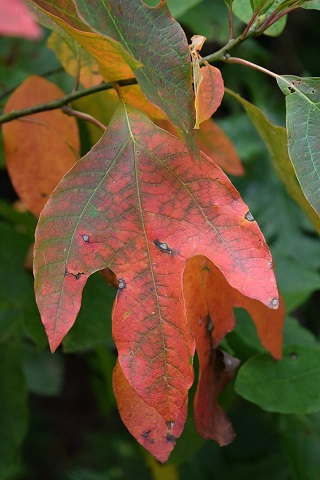 with one thumb on the side, and yet another is tri-lobed. Why it produces leaves with three different shapes is a mystery. Leaves turn orange to red, but can also be yellow, so this tree can be one of our most colorful in the fall.
Mountain ash (Sorbus americana) is fruiting now. The fruit clusters are initially orange in color, but by October, when they mature, will turn a bright red. This tree only grows at high elevations (generally above 4,000') so to see it you'll have to get to those higher areas, such as Grandfather Mt., Elk Knob, or portions of the Blue Ridge Parkway that get that high. The leaves are somewhat of a disappointment, turning a dull yellow and not really contributing to the fall color display, but the fruits are definitely worth it and when photographed against a bright azure cloudless sky, make for a striking image.
Virginia creeper (Parthenocissus quinquefolia) is starting to turn a deep red and over the next two weeks should color up nicely, as should poison ivy (Toxicodendron radicans). To distinguish the two vines, note that Virginia creeper has leaves with 5 leaflets, and the little tendrils that hold the plant onto its host tree are coiled and have a pad at the end (it exudes a glue that sticks it to the tree). Poison ivy, on the other hand, has 3 leaflets per leaf, which are shiny, and has a fibrous root system that sticks it to its host tree. Don't touch either if you aren't sure which is which, as poison ivy rash is a real pain to get! Whether poisonous or not, vines are an under-appreciated component of fall leaf color displays.
Suggestions for hikes: if you have young children, then consider the 2 mile round-trip hike around Price Lake. With easy access off the Blue Ridge Parkway, it's a level walk which makes it kid friendly (although you'll probably have to carry them over the last part once they tucker out).
Another nice hike, but longer and with minor elevational changes, is the Boone Fork Trail, which begins in the Price Picnic Area (just north of Price Lake). It is a 5 mile loop trail, with pasture, woods, creeks, and forests. You may also see beaver if you're lucky.
In about two weeks, it should be nice hiking at Graveyards and Craggy Gardens on the Blue Ridge Parkway, south and north, respectively, of Asheville. Both offer great views and hiking. I'll be visiting these later this month and will report back.
That's about it for this month. Check out the photo album I posted earlier from the Flat Rock Trail hike and have a relaxing rest of the Labor Day holiday.
Postscript: we're still excited here about ASU nearly beating Penn State in football. Boy was that a game! After coming back with 4 touchdowns in the fourth quarter to take a temporary 38-31 lead, PSU tied it and then won in overtime 45-38. This bodes well for a good season perhaps! And to boot, Rutgers, my alma mater, won its first game – go RU! For those who don't know, Rutgers and Princeton (just down the road in NJ) played the very first intercollegiate football game, back in 1869.