Fall Color Report for Week of September 17, 2017

Well, today's activities makes me think of the poem Maud Muller, by John Greenleaf Whittier (http://www.bartleby.com/102/76.html), which contains these immortal words:
For of all sad words of tongue or pen,
The saddest are these: "It might have been!"
So what 'might have been'? Well I was out scouting the leaves and encountered a closed Blue Ridge Parkway just up from Asheville about 7 miles, and had to turn around. The Parkway was closed for the next 20 miles until Park personnel can remove downed branches and trees from the aftermath of Hurricane Irma. This means I could not get to the Craggies, one of my favorite stops on the Parkway. The good news is that by next weekend that section should be re-opened.
The other thing that 'might have been' was a visit to Mt. Mitchell. But instead, my car died on the way there. Luckily, for me, it did so at one of my favorite ice cream stops (Dairyland, at the intersection of U.S. 70 and Rt. 80 just west of Marion). Try the coconut ice cream – to die for! Rt. 80 is a very windy road that will take you up to the Parkway and from there you can go to Mt. Mitchell State Park. Mt. Mitchell is the highest peak in the eastern United States, at 6,684' elevation.
Well, a kind group of ladies had jumper cables, and I got my car started again, but had to head straight back to Boone, where I left it at my favorite mechanic's place to be looked at tomorrow. Most likely an old battery, so not too serious. But it did prevent me from taking as many photos today as I would have liked.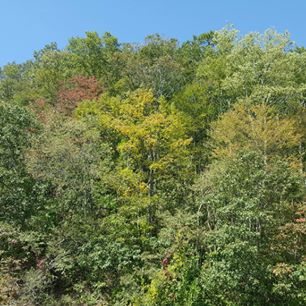 Nonetheless, I did take a few photos on the Parkway. As you can see, it is still mostly green, BUT, there is significant color now showing up in the hills. One of the most colorful changes has been the Virginia creeper, which in most locales has now turned its usual deep burgundy red. It makes a nice contrast for a few weeks against the still green trees that it climbs on. The sumacs are also starting to turn a fiery red/orange along roadsides now and they add a brilliant splash of color this time of year.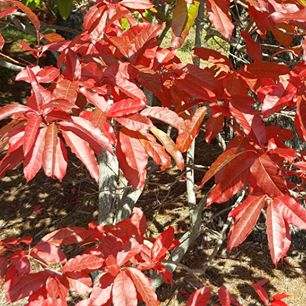 Elsewhere, red and sugar maples are turning rapidly now, both in town and in the forests. If colors continue to develop at the pace of this last week, I may have to state, for about the first time ever, that I think colors may come early this year, by at least 7 days. However, the coming week is supposed to be warm (mid-70s in the Boone area) and that may slow down the color development. If it doesn't, then I may predict that colors could peak around Oct 7 in the Boone/Blowing Rock area instead of the 12th-14th. We'll know for sure by next weekend.
Other notable developments are the continued coloring of sourwoods, which are peaking now in the High Country and foothills. They just turn early for some reason. Many sugar maples are already bright yellow and orange, and red maples are starting to show up nicely. The birches are really coloring up now, a sunny yellow, and tulip poplars are starting too. Ash trees often turn a deep purple color and are now showing up along the Parkway and in town.
Some readers have gone to Graveyards, just west of Asheville on the Parkway (and I highly recommend visiting this spot) and they report that colors are showing there already. I will post a photo from Graveyards soon. This area is very high up on the Parkway, so colors peak much earlier there. I will also get a report from the Smokies to see how they are doing and post that later.
That's the report for this week. Watch for periodic updates throughout the week. My car should be fixed early this week, so hopefully I can go out next weekend for another excursion and be able to bring back photos from the Parkway for you.
Cheers!