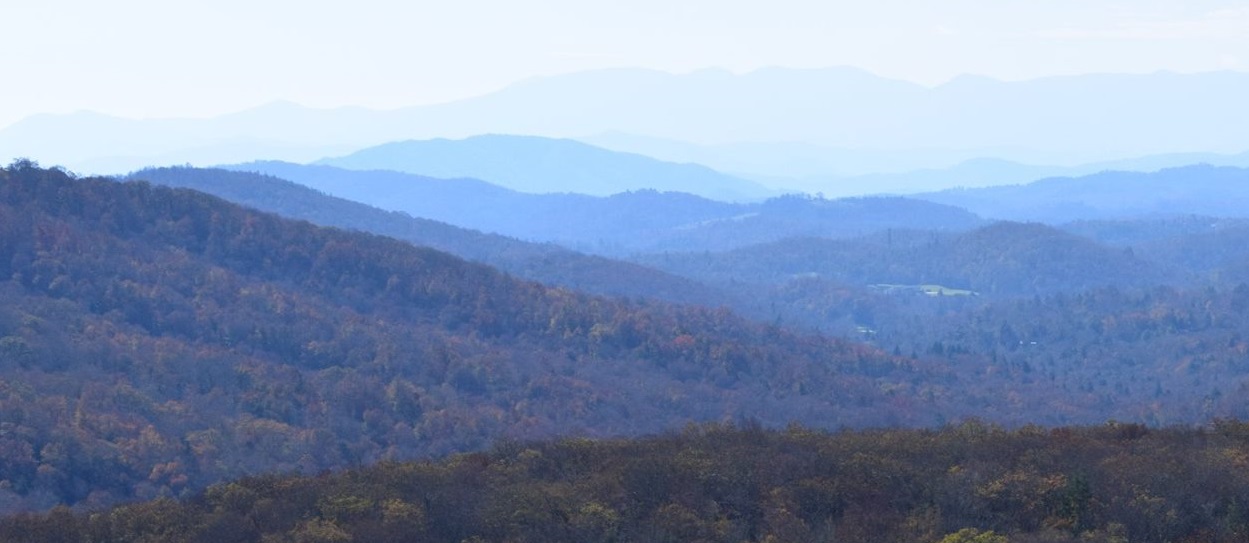 This is the peak weekend for fall colors in the High Country, some two weeks later than normal. Unfortunately, for many of you, Saturday was a bust, with rain and wind. However, today, Sunday, was quite nice, with clear blue skies up to about 3 pm, at which time the clouds moved in. Peak colors should persist for a few more days but by next weekend will be past in the High Country.
Also unfortunately, peak colors does not mean great fall color. This year has been one of the least colorful fall displays ever, primarily due to the unusually warm temperatures in September and early October, high wind events (but not from the two hurricanes that came through though!), and excessive rain. All of these have contributed to premature leaf loss and a failure to color up as in past years.
There are isolated locations with decent color, but they are scattered and few in number. The hillsides on either side of Rt. 105 just north of Foscoe around Devil's Den were looking quite nice today, but there are no good places to pull over for a view – you have to admire the colors while driving.
Many of the higher slopes are defoliated now and gray, and more leaves will no doubt come down tonight. As I write this, the winds have begun to blow vigorously outside and according to the weather reports, we will be in a wind advisory tonight. In addition, we have just had a huge bang of thunder and heavy rains are falling! How unusual for this time of year!! There go some more leaves! And Mila our red-tick hound dog, is shaking like crazy!
I took a drive today on the Parkway down to the Chestoa Overlook, which sits at about mile 321 at about 4,000' elevation. Despite its high elevation, the trees in the understory still had leaves on them, although many of the dominant overstory trees along the ridges were mostly leafless. This overlook is an easy walk from the parking lot, and you can see Table Rock Mt. to the southeast. There is also a view of the Linville Gorge Wilderness Area and Grandfather Mt.
I'm afraid the colors were quite muted from this overlook – at the lower elevations they are coloring up, and there is a smattering of reds among the yellows and oranges, but I don't think it will ever get as colorful as in past years.
From Chestoa I drove north to Beacon Heights and took the short hike up to the granite rock outcrops. The views there were much the same – lower elevations were coloring up slowly, and were very muted.I'v posted some pictures in an album.
If you still haven't come up to see the fall colors, this week would be good, as well as next weekend, although the colors will be lower down, and not so much on the Parkway or in Boone or Blowing Rock. After next weekend, the colors will all be below 3,000' elevation, which means you could see them from the Parkway, but they will not be on the Parkway.
Sorry to be the bearer of such muted news about the fall colors – but the lack of brilliance this year is occurring all the way from the southern Appalachians up into Virginia and Maryland, according to reports from leaf lookers in those regions, and, most importantly, my mom!