Fall Color Report for Week of August 26, 2018

The days are getting shorter and the mornings cooler. This past week, after a cold front moved in from the upper Midwest, our morning temperatures dropped to the low 50s and in some places as low as 45F! Perfect temperatures for getting the trees to start changing color.
In Boone, some of the planted red maples (Acer rubrum) and burning bushes (Euonymous alata) are starting to develop their characteristic red coloration. Urban street trees generally turn earlier than trees in the forests outside town. This is most likely due to genetic selection for street trees that provide vivid fall color. Some of the red maple varieties sold to nurseries go by the names Autumn Glory, Autumn Blaze and Autumn Flame! They probably turn early because they are from the north originally, and trees from the north, if they are responding to the changes in daylength, would find shorter days in the south, which would indicate cold weather were they up north where the days are longer in summer.
I found a very nice basic introduction to fall foliage colors. You can access it here:
https://learn.weatherstem.com/modul…/…/lessons/91/index.html. It's in the form of a PowerPoint presentation and has some nice information and graphics on fall leaf colors. In particular, pay attention to the graph on daylength (slide 13). Daylength varies as a function of latitude: in summer, days are longer the farther north you go. But in the winter, they are shorter.
As the days get shorter (which has been happening since June 21!) trees begin to sense this and several things begin to happen in the leaves, including slower production of chlorophyll, the pigment responsible for making leaves green; less sugars produced because there are fewer hours of daylight for the trees to carry on photosynthesis; and changes in hormones that begin the process of leaf senescence (controlled dying) and eventually lead to the leaf dropping off the tree.
These changes also trigger the color changes. As the chlorophyll degrades, the oranges and yellows (due to compounds known as carotenoids) are revealed, and if there are cool, sunny days, some trees use the sugars produced from photosynthesis to make anthocyanins, the pigments that color leaves red.
So, what's happening this week with fall leaf colors? I took a hike up Rough Ridge, just north of the Linn Cove Viaduct Visitor center, and one of the most popular hikes on the Parkway. I highly recommend this hike of about 1.5 miles. It ends at a rock outcrop with great views to the east of the Wilson Creek drainage. The trail branches off to the right just before the rock outcrop and winds its way through beautiful forests for a few miles more before ending at the Visitor Center. If you decide to hike through, it's best to park one car at the Visitor Center, then drive down in another car to the Rough Ridge parking lot and start the hike from there. Otherwise, you're going to have a very long hike back to your car. Or you could do what a colleague of mine did on Saturday – he dropped off his bike at the Visitor Center, drove down to the Rough Ridge parking lot, hiked back to the Visitor Center, and then rode his bike the 4 miles back to his car. Whew!
I've attached an album of pictures that I took on my Saturday hike and one for the street trees that I took today. I noticed that the huckleberries at Rough Ridge are turning red now, and a few shrubs (including witch hobble: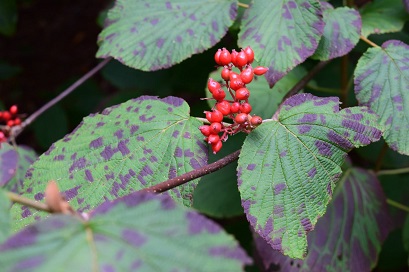 Viburnum lantanoides) are fruiting. One witch hobble is located near the beginning of the Rough Ridge trail and its leaves turn a deep purple. This species is unique in that it colors up in patches that over time coalesce until the entire leaf is purple. See the photos I took of this.
Otherwise, the forests are still 100% green and they appear to be on schedule. There is no evidence of any early fall leaf colors at this point in time.
Next weekend is Labor Day weekend and a word of caution: the Parkway will be filled with visitors, assuming the weather is good, and if you're coming up to see the views, take that into account. Get out early to avoid traffic and crowds. If you're going to Grandfather Mountain, arrive early to avoid traffic jams and crowds. Elk Knob State Park north of Boone on Rt. 194 is also a great place to visit, with a 2 mile hike to the top where you can have a 360 degree view. Later in the fall, when colors peak, you can see some of the best fall foliage color from this Park.
So, enjoy your week and the upcoming Labor Day Holiday. I have a busy weekend planned of doing …. nothing! For the sports minded, Appalachian State University, where I teach, will be playing Penn State University in football that weekend. A David vs Goliath confrontation if ever there was one. Let's hope for the best!