Fall Color Report for Week of August 19, 2018
We're still officially in summer, and in some areas, this time of the year is often referred to as the dog days of summer. However, "officially", the dog days run from July 3rd to August 11th and while it is hot out, we are past that end date. While we tend to associate late summer days with dogs purportedly going crazy from the heat, in fact, the term 'dog days' arises because these times coincide with the rising of the dog star, Sirius. In ancient times, this was associated with wars and disasters, but the modern meaning, as we know it, didn't begin to come around until about 500 years ago. For more on this term, see this short article from National Geographic Magazine.
https://news.nationalgeographic.com/2015/07/150710-dog-days-summer-sirius-star-astronomy-weather-language/
The dog days means there are still 6-8 weeks to go before we hit "peak leaf color", depending on your elevation and latitude. However, that doesn't mean trees haven't started responding to seasonal changes, such as shorter day lengths, cooler nights, and the occasional insect or disease pest. There is some color change occurring, but only sporadically.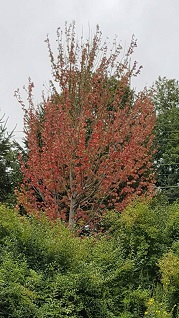 As the attached photos show, some trees are already turning, but these are mainly urban street trees, and most commonly, ornamental red maples. Near Galileo's restaurant, a planted red maple has already completely turned red. I have commented on this particular tree in the past, and I don't know why it does this, but genetics probably has something to do with it.
For native trees in the woods, you can now observe yellow buckeye leaves (Aesculus flava) beginning to turn yellow and orange. The buckeye genus contains several species, all of which have an unusual leaf phenology: they leaf out very early in the spring and are often the first tree to do so, and then are among the first to lose their leaves in summer. One species, the Georgia buckeye (Aesculus sylvatica), which I have published on, can be completely devoid of leaves by the end of August. Here in the southern Appalachians, yellow buckeyes defoliate by mid-September, but are susceptible to a leaf fungus that turns the leaves brown (Click HERE to read about it). As such, it does not rank high in terms of its color display.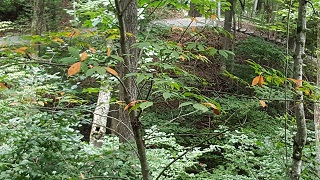 The earliest display of leaf color occurs on flowering dogwoods (Cornus florida). Dogwoods around my home just west of Boone began coloring up two weeks ago. Although they turn color early, they will retain their leaves through September. They turn red to protect the leaves from the combination of cold temperatures and high light, which can start to occur in September. The red pigment, called anthocyanin, acts as a light shield that prevents the leaf from being damaged from by the high light when it's cold outside. This in turn, allows the leaf to complete re-absorbing nutrients from the dying leaves, such as nitrogen, phosphorus, and potassium, and storing them in the twigs, where they can be re-used next spring to help produce next season's leaves.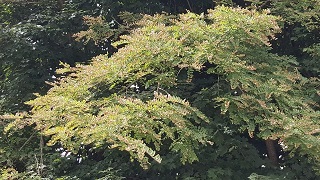 If you are driving the roads these days, you may see many brown trees. These are most likely black locust trees (Robinia pseudoacacia). See the photos attached. The browning is caused by the locust leaf miner (Odontota dorsalis), which eats out the middle of the leaves, causing them to turn brown and die (Click HERE to read more about it). It is a native insect, and does this year after year, with no apparent detrimental impacts on the locust trees. It's just a late summer 'thing'.
Forests outside city limits here in the southern Appalachians are effectively 100% green this week. We won't see major coloration on the slopes until late September, although the occasional tree may light up. A fall leaf color display worth a drive up to see will start in earnest by the beginning of October, and peak in the middle of that month, at least at elevations between 4,000' and 3,000'. Higher up, colors will appear the first week of October, while at lower elevations, the last week of October.
Finally, if you go out for a hike in the next few weeks, look down. There are things happening close to the ground that are worth viewing. This week, for example, Jack-in-the Pulpits (Arisaema triphyllum) are fruiting. These are beautiful woodland herbs, recognized for their unique flower structure, bright red fruits when mature, and glossy, tripartite green leaves.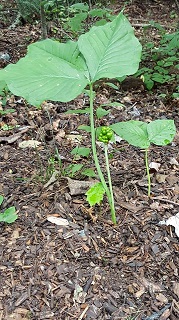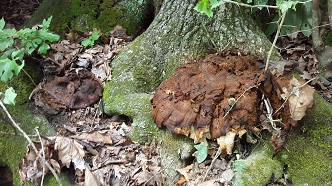 Forest fungi are having a banner season because of all the rain we've received this summer. Note the photo below of the large brown fungus I found in the Appalachian State Nature Preserve this week – it is about 16" across!
I hope this brings you up-to-date regarding the latest fall leaf color developments. See you all next week!