Fall Color Report for Week of August 13, 2017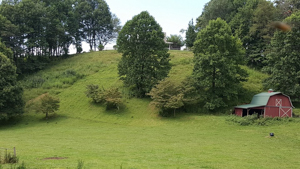 Well, there haven't been many developments since my post last week. I do include a picture of the dogwoods across the street from my house. You can definitely see them starting to color up.
Otherwise we continue in our late summer weather pattern, with higher humidities, making it very muggy here. Still getting ample rain too.
I just learned that my university is playing UGA over the Labor Day weekend - in Athens, GA. All I can say is, Oh my!
I've also included a picture of Mila, the fall color dog, and some beautiful flowers.
Hope everyone has a great week.