Wildflower Report for April 7, 2019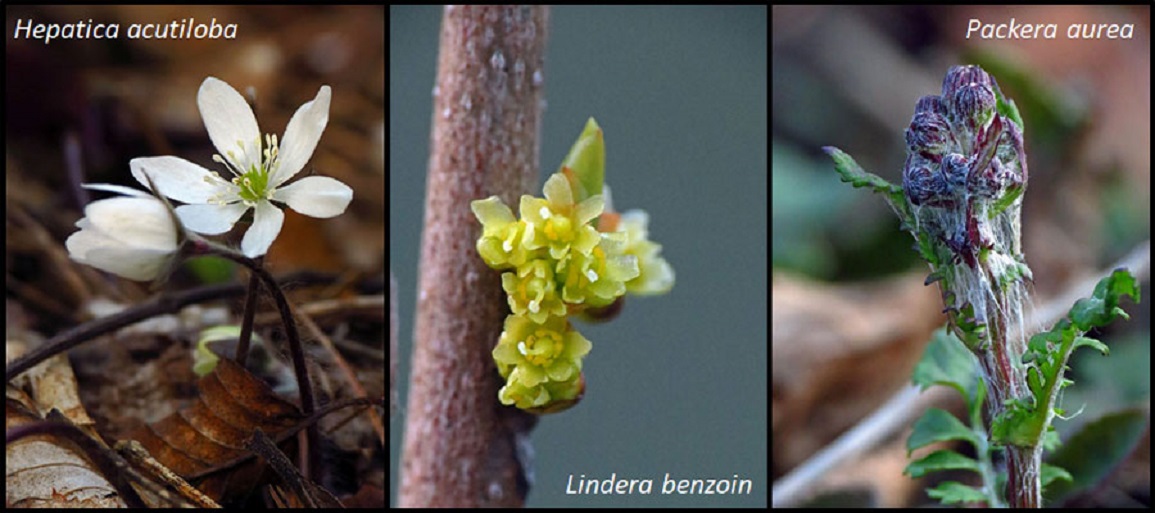 By Dr. Annkatrin Rose, Department of Biology, Appalachian State University:
According to the National Phenology Network, spring arrived about two weeks early in the Boone area this year. It may not have felt like spring earlier this week with another dip into freezing temperatures but the first spring ephemerals have made their appearance around town. These flowers emerge on the forest floor to bloom and complete their reproductive cycle before the trees leaf out. Rain and warmer temperatures coming up will tease more of these early bloomers out of the soil for the coming weekend. This would be a good time to go looking for the first signs of spring along the trails around Boone. We are just at the start of the annual spring wildflower season, and looking at the weather forecast it is about start in earnest.
Early wildflowers to keep an eye out for on the forest floor this weekend include liverleaf (Hepatica acutiloba), spring beauties (Claytonia caroliniana and C. virginiana), bloodroot (Sanguinaria canadensis), cutleaf toothwort (Cardamine concatenata), star chickweed (Stellaria pubera), seersucker sedge (Carex plantaginea) and the first yellow violets (Viola rotundifolia and V. hastata) and blue violets (V. sororia). All of these are growing low to the ground and some, like the spring beauties, will only open up when it's sunny and warm enough for their pollinators to fly. Some shrubs and trees have started blooming as well, such as spicebush (Lindera benzoin) and red maple (Acer rubrum). The next round of spring wildflowers is already poking up their foliage and in some cases flower buds as well. Peak bloom time is weather dependent but I'm guessing we'll see a great number of flowers mid to late April with the higher elevations joining in late April to early May.
If you would like to come along on a walk to see the early bloomers and get to know what they are, the Biology Department will again host a guided tour of the ASU Nature Preserve on campus following Open House on Saturday, April 13. We'll meet at 1 PM in front of the Geology Museum in the lobby of Rankin Science South and walk from there.
Pictures: Sharp-lobed liverleaf, a close-up of spicebush flowers, and golden ragwort budding along the Fern Nature Trail at New River State Park on March 30, 2019.