Why did you become a biologist (and specifically what type of biologist you are)?
Being a biologist was not a set life path or choice I made- I kind of stumbled into it. I have always been fascinated by the natural world; playing in mud, picking at pieces of plants, finding rocks and mushrooms, and hiking around since I was a kid (I still do all of these things). When I applied to go to college, I had to make a crucial decision: would I stay in Raleigh and enter the Forestry Program at State, move to the beach to attend UNC Wilmington and aim to enter the Environmental Science Program, or move to the mountains to attend AppState with the goal of entering into the Biology Program? In the end, I chose Appstate, because its dense, moisture-laden forests reminded me of the tropical rainforests of Costa Rica I fell in love with a summer before attending college. I didn't realize at the time that ecosystems within the Blue Ridge Mountains are also considered rain forests, just of the temperate kind. It was absolutely the right choice. Learning more about and having a better understanding of the cellular chemistry, processes and pathways, ecological processes, and biodiversity of organisms, greatly deepened my understanding of the organisms and ecosystems I was already so fond of.
During my time earning my BS, a friend and fellow classmate mentioned they were working with Dr Mark Venable as an undergraduate research assistant. I figured "why not?" and asked to join the team. My work investigating the effects of stress on lipid production in microalgae exposed me to cell culture and aseptic techniques, cell counts, the use of fluorescent stains, chemical extractions, and hypothesis testing. I was so into it! I had discovered a love for research work and algae (more on that later), and this is where my consideration to earn a MS in Biology at App State was sparked.
My research in Mark's lab helped me to realize that biology was so much more than studying from textbooks, and I found that I was deeply motivated by the creativity, problem solving, and logistics required in hypothesis testing and research. Although I had always enjoyed learning about biology, and I was successful in school, research and lab work are where I transformed from "a student studying biology" to "an individual dedicated to the study of living organisms"; it transformed my understanding of what it means to be a biologist.
My MS work was on the effect of stressors on aggregation and biofilm formation of the microalgae, Parachlorella kessleri. You can read more about our research findings here. At the time, this track didn't exist, but I would classify myself as an integrative biologist, as my research with algae traversed cellular, molecular, ecological and environmental fields of biology.
When did you know this was your career choice (discuss the process through which you ended up choosing this as a career)?
After earning my BS and MS in Biology from Appalachian State, I was ready to move on from the mountains of Boone and see what else was out there. I was travelling a lot at this point and was working a side job as a vet tech affording me the time to sort out how and when I would "settle down" and decide the next steps. Based on some of the graduate TA (teaching assistantship) work I had completed during my MS, I was asked to come in to interview for a position in the Biology Department for a recently vacated position: a position as a General Biology Laboratory Manager. At the time, my thoughts were "Sure, I'll try this out, it will look good on my resume, I can get good experience and then I'll move on". Little did I know that I would end up in this position for several years, and eventually go on to a supervisory role as a General Biology Laboratory Supervisor, and more recently, accepting a position as the Interim General Biology Program Director. Each of these positions have deepened my understanding of biology, bolstered my abilities in both management and logistics, and exposed me to the science/study of teaching known as pedagogy. By making the choice to "try it out", I found a career path that I am deeply motivated by and passionate about.
Who or what is your inspiration?
Honestly, I am so inspired by our students. Working in the General Biology Program gives me the opportunity to work with such a diverse population of students: undergraduate and graduate students, incoming freshman to sophomores, juniors, and occasionally seniors, a spectacular diversity of backgrounds including first-generation college students, multicultural, and non-traditional students, and students with a wide variety of learning styles. Sometimes, it's hard to keep up with. I am challenged daily by my definitions of what a "typical" student is and what it means to learn "traditionally". In this day and age, maybe it's worth throwing these ideas out completely. But that, in and of itself, is pretty magical. I am constantly inspired by this divergence from the norm, the traditional, the expected. As well, I am inspired by each students' unique way of showing up to be present in the classroom, completing their coursework, learning the materials, their dedication to finding ways to succeed within the classroom, and their motivations for doing so. I am so proud to work with a diversity of students that challenge me to think differently, to adapt, and to do better. That challenge motivates and inspires me daily and I am thankful for the opportunity.
What courses do you currently teach?
In my previous position as General Biology Laboratory Supervisor, I did not hold a formal teaching role, instead I worked directly with graduate students to further their understanding of the materials they teach each week in the labs, classroom management skills, pedagogy, and important aspects of professionalism and interpersonal skills. In my new position as the General Biology Program Director, I am looking forward to cycling through teaching the courses offered within the General Biology Program.
What do you like most about teaching?
I like finding ways to help students succeed. Everyone is different and requires different levels of and types of support. To teach the same way to everyone is unrealistic, and yet, in classrooms with more than one student (every classroom), we must find ways to cater our teaching styles to the needs of the students included within our class. This is a dynamic process, which includes the need for listening, creativity, reflection, assessment, an environment of inclusivity, openness, and transparency, and the shared goals of excellence and achievement.
What is the overarching goal of your research program?
I am not currently conducting research in the Biology Department. I am, however, taking a number of classes, webinars, and courses on pedagogy and inclusive excellence. Currently, the 1200 series labs are involved with a Citizen Science project, Caterpillars Count, which uses citizen-populated data sets to investigate the phenology of arthropods, whether it is shifting in response to climate change, and the impacts this may have on organisms, such as birds, that depend on arthropods as a food source. In addition, I aim to include other aspects of authentic research to our program.
What advice do you have for undergraduates/graduates pursuing degrees in biology these days?
I encourage undergraduates that are interested in pursuing a degree in biology, to be open minded about where your path takes you. Try out as many things as you can! Get involved in research and volunteer opportunities, even if they seem out of your comfort zone or not included in your interests, and make special notes about what you enjoyed, but most especially about what wasn't a good fit. You may not know exactly what you want to do, and that's fine, but you can narrow it down by considering what you don't like or what doesn't work for you. As you experience more and differing aspects of biology, your appreciations for certain topics may change. You likely haven't been exposed to the varying disciplines that a degree in biology can include, and so the more you investigate, the more likely you are to find something that's a perfect fit for you.
I also encourage you to remember that biology is a term that means "the study of living organisms" and it includes a wide variety of subdisciplines. You are not expected to excel at or be interested in every aspect of biology just because you are working to earn a degree in biology. I find this happens a lot in General Biology. Because these courses cover a wide variety of material, students get nervous because they aren't "good at" or interested in every aspect of biology and figure that maybe it's not the "right path" for them. It is okay and it is encouraged that you specialize in your unique interests and talents! Just because you don't do well in a single (or a few) biology classes, doesn't mean you won't make an excellent biologist one day- it may just mean you haven't found the right niche! :)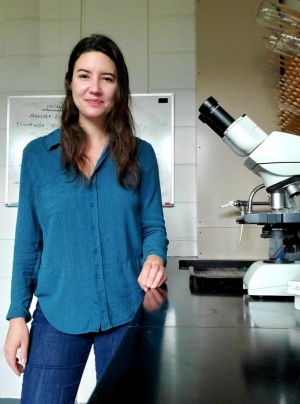 Tags: