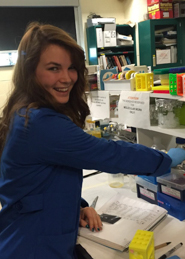 Laura Ellis
How did you become interested in biology?
Thinking back as long as I can remember I have always been fascinated by how the world works, from the smallest tadpole to the weather. I wanted to know the function and purpose of every aspect. I was always the kid playing in the creek by my house, saving animals, and peppering everyone with a million questions about how life worked. This fascination with the world around me grew and transitioned to animals and specifically zoology during my undergraduate career at University of North Carolina Asheville (UNCA). While at UNCA I fell in love with zoology, but I always wanted to know more about how each animal physiologically functions and what specific processes were leading the animal to be able to adapt to ecosystem scale changes.
Why did you pick ASU for your graduate degree?
When I was in my senior year at UNCA a representative from ASU came to the graduate fair and the program instantly intrigued me. I always dreamed of a PhD and a masters only program was a perfect way to start my graduate school career. After doing some research into the faculty I came across Dr. Susan Edwards' fish physiology research. When I interviewed with Dr. Edwards and toured ASU, I knew this was the next step on my journey in science. I loved the idea of using both molecular techniques and microscopy to answer big picture questions like how fish deal with increasing oceanic CO2 and changing salinities.
What is your thesis research focused on?
My thesis research is looking at the transmembrane channel proteins, called Rhesus proteins, responsible for the facilitation of the movement of the nitrogenous waste product ammonia. Ammonia is toxic and therefore must be excreted to maintain both homeostasis as well as normal cellular functions. I study two fish, the spiny dogfish, a cartilaginous fish, and the long horned sculpin, a bony fish. In the fish I look at specifically where their rhesus proteins are in their tissues, including the gill, kidney, intestine, and skin. I also use various molecular techniques to isolate the proteins so they can be sequenced and compared to the other known rhesus proteins.
What are your plans after you finish your Master's degree here?
This fall my dream is becoming reality as I begin my journey for a PhD in Biology at the University of Arkansas as a Distinguished Doctoral Fellow under the direction of Dr. Christian Tipsmark. My PhD research will focus on fish physiology and the adaptations in the fish gill that fish utilize under changing environmental conditions.
********************************************
Gary Pandolfi
How did you become interested in biology?
I've always been fascinated with the outdoors and all the plants and animals. Growing up I spent most of my childhood with my grandfather (papaw) outside hiking, fishing, camping and hunting. I think from an early age, and long before I was aware, my family knew I would likely pursue a career in biology. When I first came to college I originally thought I wanted a physics degree and quickly reverted to biology after discovering physics just wasn't the correct path for me. I have always had a special interest in streams and rivers. I can remember spending countless hours as a kid trying to catch fish, crayfish and salamanders. At Appalachian State University, I was able to turn this passion into not only an undergraduate but also graduate degree which have catapulted me into a career as an aquatic biologist.
Why did you pick ASU for your graduate degree?
Originally, I came to Appalachian State in hopes to attend class for two years and transfer to NC State to complete my physics/engineering degree. After determining that I did not want to be an engineer I switched to biology. Once my bachelor's degree was finished I knew I wanted to continue my education with a master's degree in biology. I chose to stay at Appalachian State because of the excellent relationships and comradery I had built with the faculty and staff during my undergraduate days. During my undergraduate career I had volunteered pretty extensively with my now current master's thesis advisor (Dr. Michael Gangloff) and chose to stay at Appalachian and complete my Master's research under his supervision.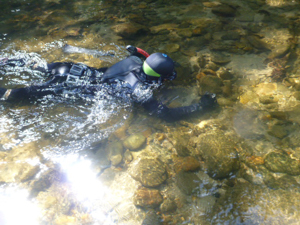 What is your thesis research focused on?
I studied the effects of long term climatic variation and human caused land use modification on a federally endangered mussel, the Appalachian elktoe. In a nut shell the impacts of CO2 being pumped into the atmosphere are causing streams to warm and the removal of primary forest cover for human development are destroying the fragile stream habitat required by my study species. The combined effects of these two large scale changes appear to be directly linked to rather severe and range wide declines of the Appalachian elktoe mussel.
What are your plans after you finish your Master's degree here?
I worked as an intern with the US Fish and Wildlife Service's Asheville, NC Ecological Services Field Office during my last year as a master's student. I am pursuing a biologist position with the US Fish and Wildlife Service with a specific focus on freshwater mussels after completion of my degree. My education from Appalachian State coupled with my experience and knowledge obtained during my Masters have given me the skills to obtain such a position.