AppState student Katie Krogmeier earned the Li-Cor prize for best poster at the Botanical Society of America's Botany Conference 2019 in Tucson, AZ in late July. She shared the honor, which included a $150 monetary award for each student, with Steve Augustine, a graduate student in botany at the University of Wisconsin-Madison. Each year, the Physiological Section of the Botanical Society of America presents the Li-Cor prize to acknowledge the best presentation made by any student, regardless of subdiscipline, at the annual meeting. The Li-Cor prize acknowledges those students who have made excellent use of a Li-Cor instrument in their research. Li-Cor, Inc., located in Lincoln, NE, makes instruments for measuring environmental parameters, including light and trace gases such as CO2. Their portable photosynthesis systems are among the most widely used by researchers.
Katie is a graduate student of Dr. Howard Neufeld in the Department of Biology. Katie's poster, which was co-authored with Erica Pauer and Dr. Neufeld, was entitled "Investigating Potential Impacts of Polyploidy on the Ecophysiological Responses of Solidago altissima to Climate Change" and represents the beginning phases of her Masters work.
Solidago altissima, a species of goldenrod has diploid, tetraploid, and hexaploid populations in the midwest, but only hexaploid populations in the east. Diploid populations have two copies of each chromosome (one from the male parent and one from the female parent), while hexaploids have six copies of each chromosome (three from each parent). Plants with more chromosomes tend to have larger cells and can exhibit differences in anatomy, morphology and physiology. Sometimes this can lead to habitat separation and even reproductive isolation, which could be the initial processes leading to eventual differential selection that results in the formation of entirely new species.
For her thesis research, Katie is comparing the responses of diploid and hexaploid populations to drought and warming, as well as examining morphological and physiological differences. Her research may shed light on why so many plants have polyploid populations and how these polyploids may respond to future climate change as their habitats get warmer and experience differences in both amount and timing of precipitation.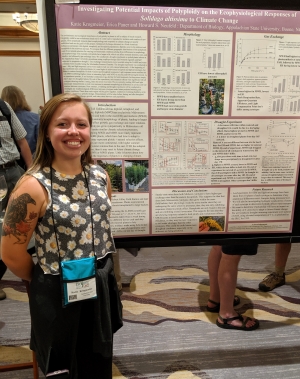 Tags: