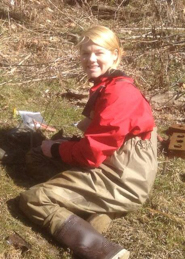 Elyse Russing
How did you become interested in biology?
I have actually been interested in both biology and chemistry since I was very young. I use to attend science camps in Greensboro and Charlotte with a large emphasis on pre-professional biology. A lot of people may find it odd but I also gained a lot of interest in science through my love of cooking. Cooking is seen as a very artistic field and many people don't truly understand the science behind it. When I started to really delve into the science behind cooking it helped me a lot with understanding many critical concepts. I have always had a love for biology but it wasn't until I took ecology that I decided to change from pre-professional biology to environmental biology. Courses such as conservation biology and ichthyology really opened my eyes to a whole different world within this field. I knew from an early age that I never wanted the typical job after college and that I wanted to pursue a career with a profound goal. I think any research based career gives you this opportunity.
Why did you pick ASU for your graduate degree?
I started my undergraduate career at N.C. State University and decided almost immediately that it was the wrong fit for me. I completed a year there and then transferred into the biology program at ASU. I found the program at ASU to be way more hands on and a lot more challenging. Just in the first semester after I transferred I was pushed a lot more and given many more opportunities to participate. I really started to build relationships with my professors and many of them encouraged me to pursue a graduate degree. My independent research experience really began in my last year of undergrad when I worked with students in the appropriate technology department on microhydro power systems. We developed a project to mitigate some of the environmental impacts that local microhydro power systems were having on streams. Working in the field and having the opportunity to work on this independent project was when I knew that ASU was the best fit for me for a graduate degree. I still remain very confident in this decision because I have been pushed by some of the best professors and peers to meet challenges that I never even knew I was capable of. I have learned a lot throughout my time here and I am really glad that I chose ASU for graduate school.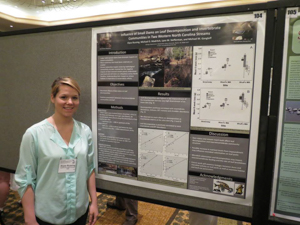 What is your thesis research focused on?
My thesis research is primarily focused on the impact of low head dams on stream ecosystem processes. Leaf decomposition is a vital ecosystem service that when quantified can tell us a lot as researches about the condition of that stream. The first year my project looked at whether or not dam status played a role in the rate of leaf decomposition. What we found to be most interesting is that just below an intact dam where most would speculate to have a decline in leaf breakdown we actually saw a significant increase. This was even more perplexing when I added in the results from all of my aquatic insect data and found that the greatest increase in leaf decomposition did not coincide with the greatest number of invertebrate shredders. We decided to develop a follow up project which I am currently working on to determine whether microbial communities or aquatic insects play the largest role in leaf decomposition in the presence of an intact low head dam.
What are your plans after you finish your Master's degree here?
This is probably one of the toughest questions for me to answer. I am still learning a lot each day and trying to find exactly what it is within this field that I love and would hope to continue pursuing. Working in the Gangloff/Siefferman lab puts us all at a really great advantage because we are encouraged to help with many different projects and get to learn so many more concepts than what just pertains to our own research. Mike and Lynn are always pushing us to learn new techniques and get involved with everyone's research in the lab which has been one of the greatest aspects of this program because I was never limited in areas of research. If we didn't have the means to do something or if we ever wanted to try a novel technique they were always willing to help us. This broad spectrum of research though has really challenged me to determine my path after school. One of the greatest privileges I have encountered during my time in graduate school is having the opportunity to teach. It wasn't always easy and at times a bit overwhelming but it has made me realize that teaching may be something that I would like to continue doing.
Sam Kovach
How did you become interested in biology?
Growing up I spend most of my time exploring and learning from the forests outside of Asheville. I always enjoyed the process of science and letting my natural curiosity wander. In college, I had difficulty deciding what I wanted to study, although I always gravitated towards the natural sciences. I completed a degree in Environmental Science with an Ecology concentration because the program integrated physical, biological and information sciences, all of which I enjoyed.
Why did you pick ASU for your graduate degree?
After college, I wanted to continue my education and work on a research project at a graduate level. Furthermore, I decided I wanted to use my multidisciplinary background to study ecological processes at large spatial scales. I met with many professors at several different Universities, and I became familiar with the research opportunities they offered. My interests and ambitions were most similar to the landscape ecology research discussed with my current advisor, Dr Steven Seagle.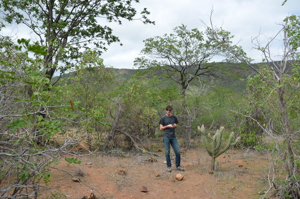 What is your thesis research focused on?
My research focuses on landscape ecology, and in particular, how change in the landscape of northeastern Brazil is affecting ecological processes. I hypothesize that rapid human population growth and development has drastically changed landscape structure. Using geospatial analysis and remote sensing, I am quantifying the changes in landuse, landscape structure, and composition on a large spatial scale. This project is part of a larger collaborative project examining visceral leishmaniasis in Brazil and how landscape changes have influenced the distribution of this disease.
What are your plans after you finish your Master's degree here?
During my graduate school career I am hoping to develop the skills to study ecosystems, the environment, and solutions to environmental problems as a career. Following graduation I would like to continue similar research while incorporating a public health component. I am currently looking at several public health schools as well as several environmental organizations and consulting firms.