Why did you become a biologist (and specifically the type of biologist you are)?
I was pretty much born a biologist and once I had moved on from classifying toy cars to dinosaurs, my fate was pretty much sealed. I often told my elementary-school teachers and peers that I aspired to a career as a herpetologist (of course, that was received with much snickering). Once in college, I decided that Aquatic Ecology was a practical, and more career-friendly compromise and when I had the chance to study freshwater mussels in Alabama, I leapt at the chance.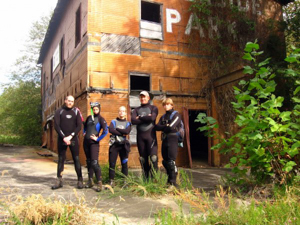 When did you know this was your career choice?
I basically always knew that I would get a Ph.D. Because I am a giant nerd, this was always more or less a forgone conclusion. I had very little idea about the diversity of career options available in biology, however and feel that this lack of understanding career options is a major shortcoming of many ecology courses and degree programs. I feel strongly that addressing this lack of understanding is a big part of my job.
Where are you originally from and how did your childhood influence your career decision?
I am a native of Long Island, New York. Growing up in an urban environment strongly influenced both my interest in human impacts on natural systems and my desire to live in a less crowded place.
Who (what) was (were, is/are) your inspiration?
My parents and extended family were very supportive of all my interests and did everything they could to facilitate my academic development. This support ranged from financial support to putting up with my odd pet choices.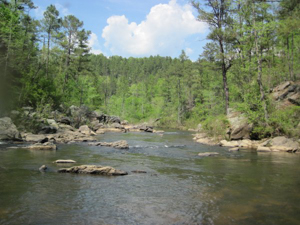 If you had to do it again, what would you be?
Why, a herpetologist of course!
What courses do you currently teach?
I currently teach Conservation Biology, and Ecology Graduate Seminars. I have also taught Animal Behavior and Ecology labs.
Are you planning to teach any new courses in the near future?
I will be offering an Aquatic Biology class in Spring semesters beginning Spring 2015. This course will cover all aspects of the aquatic habitats that make Earth a blue planet and are critical to all forms of life as we know it.
What do you like most about teaching?
I really enjoy getting to know and interact with Appalachian's incredibly bright students. I am continually surprised at the depth and breadth of their knowledge of biology and their great passion for conservation-related issues. It is especially gratifying to see so many of my students graduate and find jobs or continue their educational pursuits in graduate programs.

What is the overarching goal of your research program?
The overarching goal of my research program is to provide data to facilitate conservation of Earth's incredible freshwater ecosystems and the unique life forms they support.

What are you most proud about in terms of the research you've been a part?
My research has helped to recognize and protect numerous endangered freshwater species. I have been lucky enough to discover what appear to be several un-described species and we've made some pretty key contributions to our understanding of freshwater mollusk habitat ecology.
What do you like most about doing research?
I enjoy the exploratory nature of my research and the fact that I get to experience unique and quite alien environments like the bottom of large rivers or encounter incredibly rare animals that are seldom seen by other biologists.
What advice do you have for undergraduates/graduates pursuing degrees in biology these days (or advice on how to be a successful student at App State)?
While it is important to go to class, get good grades and do well on standardized tests (i.e., be a successful student), these experiences do relatively little to prepare you for a career in biology beyond giving you a rather basic and simplistic understanding of the world. Only by getting involved in research will you actually get an idea about whether a chosen career track is appropriate for your interests and learn that there are an almost infinite number of ways you can contribute to our understanding of biology.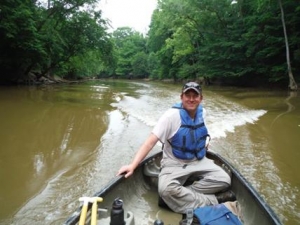 Tags: