When did you graduate?
I started the program in August of 2010 and graduated the program in May of 2012.
What do you currently do?
Currently I work as the research laboratory supervisor for Dr. Lisa Petrella's lab at Marquette University. While preforming basic laboratory duties (creating buffers/pouring agar plates/inventory and ordering supplies) I have multiple research projects that I am currently working on utilizing genetics, genomics, and cell biology as research tools. Our lab uses the nematode Caenorhabditis elegans as a model organism to study how higher environmental temperatures effect gene regulation and fertility at the individual gene level and the genomic level. We are primarily interested in a highly conserved multi-protein complex known as DRM. It is known that members of this complex are involved in multiple regulatory systems, such as cell differentiation, cell fate and germline gene repression in the soma. By understanding how DRM complex members are involved in fertility, we may be able to understand how some tumor suppressor proteins regulate cell fate and gene regulation in response to high temperature perturbation. We are also interested in genetic factors involved in the ability to remain fertile in response to differences in environmental temperatures. Soil nematodes are one of the most common eukaryotes found throughout the world and thus experience drastic differences in daily/seasonal temperatures. By observing brood size and genetic differences of many Caenorhabditis species isolated from different areas of the world, we can better understand evolved adaptations to maintain fertility at different environmental temperatures.
Why did you pick App State for graduate work?
I attended Appalachian State University while receiving a B.S. in Ecology/Environmental Biology. While working on my Bachelors degree, I did research in a number of research labs within the biology department and fell in love with the project I was working on in Dr. Sue Edwards' lab (examining nitrogenous waste excretion in hagfish and lampreys). I talked with Dr. Edwards on multiple occasions about attending graduate school and she suggested that I could continue my research in her lab. I already loved everything about App State and the biology department, therefore my decision to join the graduate department at App State was an easy choice!
Did getting your MS degree help you with your current career? How?
Before getting my M.S. from App State, I did not have a clue what the world of biological research entailed. After two years of hard work learning new techniques and analyzing data alongside Dr. Edwards, I grew to love it. After graduation I followed my passion for research and started looking for positions in research labs (both private companies and at universities) studying a wide variety of topics. Currently, my position at Marquette University requires me to employ all of the skills that I have learned while working in Dr. Edwards' lab at App State. Some of these skills include knowledge of protein biochemistry and molecular techniques, data acquisition, data analysis, and presentation of data to colleagues and to the public.
Do you have any advise/tips to give to current graduate students for their time here? Their career choices?
As someone who came into the program not having much of an understanding of research and what it takes to achieve an MS in Science, I would suggest the following: Be in the lab as much as possible, learning techniques/protocols. Read papers not just about your specific research topic, but also read broadly in your field. And what I think is most important is to ask as many questions as possible. It is true that learning comes from failure, but there is no shame in asking too many questions about a technique.
I feel it is very important to be well rounded in the knowledge you take away from Appalachian State University. I would suggest you follow your specific interests, whether they be snorkeling around rivers/lakes looking for invertebrates or working at the lab bench processing tissue/DNA samples. There is a wide array of jobs available following any science interest you may have, all you have to do is look for what sparks your interests.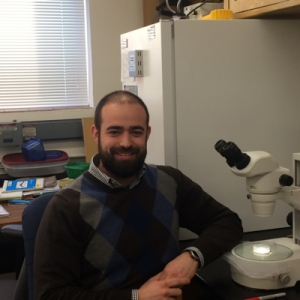 Tags: