Pronounced Blike
Education:
Ph.D. Pharmaceutical Sciences, University of North Carolina at Chapel Hill, 2017, Chapel Hill, NC
B.S. Chemistry, Western Carolina University, 2012, Cullowhee, NC
Professional Experience
Assistant Professor, Department of Biology, 2020-Present, Appalachian State University, Boone, NC
Visiting Assistant Professor, Department of Biology, 2019, University of North Carolina at Pembroke, Pembroke, NC
SPIRE Postdoctoral Scholar, Department of Microbiology & Immunology, 2017-2020, University of North Carolina at Chapel Hill, Chapel Hill, NC
Areas of Interest
Microbiology
Microbiome and microbial communities
Specialized metabolites
Bacterial communication
Microbe-microbe interactions
Research Statement
Inflammatory bowel disease (IBD) affects over one million people in the United States and costs billions of dollars in direct medical expenses annually. This chronic inflammatory condition, which includes Crohn's disease, currently has no medical cure. The resident microbes in the human intestine are implicated in IBD, and E. coli are found in greater proportion in IBD patients. The overall goal of my research is to define behavioral characteristics and molecular features of Crohn's-associated E. coli strains that impact microbe-microbe and host-microbe interactions. Traditional methods for bacterial identification, such as 16S rRNA sequencing, are unable to distinguish sub-strains of E. coli that are functionally distinct. To overcome this limitation, we use a molecular barcoding technology which permits identification and quantification of genetically similar but functionally distinct strains from among a complex microbiota. My laboratory engages students in exploring and defining mechanisms by which resident, non-pathogenic bacteria participate in interactions that impact microbial ecology and host health. Research questions that stem from this interest include: (1) How do species and strain-specific bacterial features and behaviors impact microbial community structure and function? (2) How do specialized metabolites mediate microbial interactions? (3) How do these interactions impact host cellular biology, health and disease?
Selected Publications
Bleich, R.M. & Arthur, J.C. (2021). Microbiome and the Hallmarks of Cancer. Jun Sun (Ed.) Inflammation, Infection, and Microbiome in Cancers: Evidence, Mechanisms, and Implications. Springer Nature, Chapter 1; p. 1-26. https://doi.org/10.1007/978-3-030-67951-4_1.
Lopez, L.; Bleich, R.M.; & Arthur, J.C. (2021). Microbiota Effects on Carcinogenesis: Initiation, promotion, and progression. Ann Rev Med, 72:243-261. DOI: 10.1146/annurev-med-080719-091604. PubMed PMID: 33052764.
Bleich, R.M. & Arthur, J.C. (2019). Revealing a microbial carcinogen. Science, 363(6428), 689-690. PubMed PMID: 30765550.
Grubbs, K.J*; Bleich, R.M.*; Santa Maria, K.C.; Allen, S.E.; Farag, S.; AgBiome Team; Shank, E.A.; & Bowers, A.A. (2017). Large-scale bioinformatics analysis of Bacillus genomes uncovers conserved roles of natural products in bacterial physiology. mSystems, 2(6), doi: 10.1128/mSystems.00040-17. PubMed PMID: 29152584; PubMed Central PMCID: PMC5686519.
Bleich, R.M.; Watrous, J.; Dorrestein, P.C.; Bowers, A.A.; & Shank, E.A. (2015). ­Thiopeptide antibiotics stimulate biofilm formation in Bacillus subtilis. Proc. Nat. Acad. Sci., 112(10), 3086-3091. doi: 10.1073/pnas.1414272112. PubMed PMID: 25713360; PubMed Central PMCID: PMC4364203.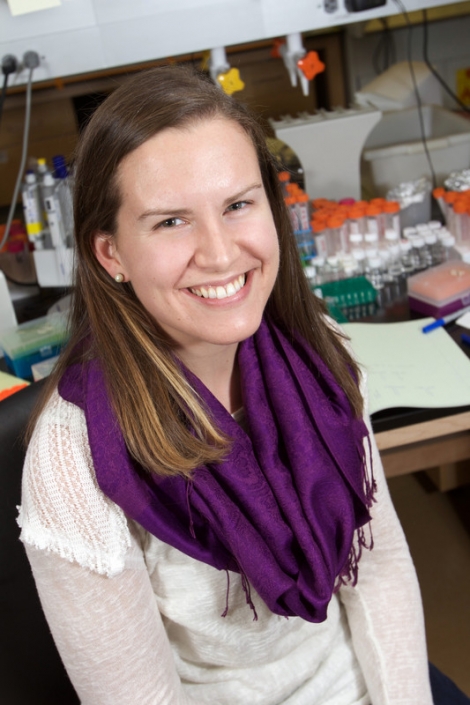 Title:

Assistant Professor, Gut Microbiome
Department:

Department of Biology

Email address: Email me

Phone: (828) 262-6742
Office address
Rankin Science West 263