Education:
PhD, Virginia Polytechnic Institute and State University
My research focuses on the relationship between plants and symbiotic fungi and the diversity and systematics of ectomycorrhizal fungi. This research is driven by a desire to understand how critical ecosystem functions depend on mycorrhizal fungi and how the fungi in turn adapt to environmental conditions. We have demonstrated that ectomycorrhizal fungus diversity is exceptionally high in the Appalachian Mountains , and indicated that large areas of undisturbed forest are needed to protect the many species that occur infrequently throughout the region.
Recent Projects:
Seedling inhibition by Rhododendron
I showed that ectomycorrhizal colonization of tree seedlings was suppressed in R . maximum thickets. In collaboration with a group of plant ecophysiologists, our research concluded that low light levels and reduced mycorrhization of the seedlings were components of a negative feedback cycle leading to the observed seedling mortality. I used molecular techniques to extract mycorrhizal fungus DNA directly from seedling root tips, type, and identify the mycorrhizal assemblage associated with the seedlings. This work provided our first estimation of the types of ectomycorrhizal fungi oak seedlings can associate with under natural conditions and showed that seedlings were not developmentally restricted to associating with a subset of the overall ectomycorrhizal inoculum pool. While the exceptional diversity of ectomycorrhizal fungi recovered from the seedlings restricted our ability to characterize the relationships between fungal composition and a wide variety of measured environmental parameters, other potentially more interesting conclusions were drawn. For example, while classical expectations were that plants associate with mycorrhizal fungi for the duration of the growing season, I showed that a new and distinct fungal assemblage largely replaced mid-summer fungi later in the season.
Arctic ericoid mycorrhizae
In collaboration with Dr. Ari Jumpponen ( Kansas State University ), I characterized the diversity of fungi associated with ericoid plants in the arctic tundra and estimated the importance of these fungi for plant uptake of organic N. We found that the fungal community associated with ericoid plants in the arctic is highly atypical in comparison to those described from temperate and boreal ecosystems. Fungi associated with the roots fall in multiple lineages that have not been previously described as ericoid mycorrhizal, and typical dominants are absent. Nitrogen uptake capacities of the fungi are being assessed in laboratory experiments in monocultures and in synthesis with ericoid plants. A growth chamber experiment was carried out using fungicides and stable N isotopes. This experiment showed that inhibition of ericoid mycorrhizal fungi reduced short term N uptake by plants from organic sources by 40%, and leaf N decreased by 10% over eight weeks. These results facilitate incorporation of ericoid mycorrhizal functions (i.e. depolymerization and uptake of organic N) in the modern N cycling paradigm for highly N limited organic soils that typify the circumpolar tundra biome. Collectively, these results will describe the importance of ericoid fungal diversity in adding dimensionality to a major plant resource and thereby facilitating plant coexistence and enhancing plant diversity in the arctic.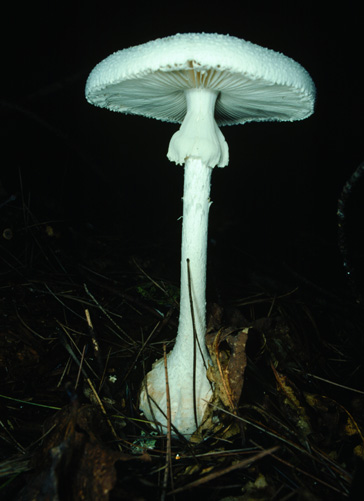 Amanita abrupta (Copyright John F. Walker)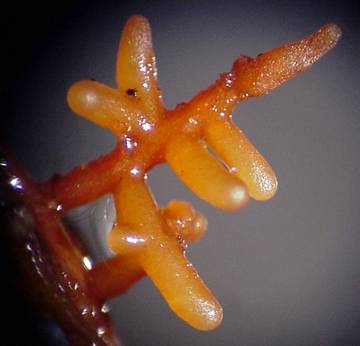 Ectomycorrhizal root tips on an oak seedling (Copyright John F. Walker)
Selected Publications:
Walker JF, Johnson, LC, Simpson NB, Bill M, and A Jumpponen (in Press 2010) Application of fungistatics in soil reduces N uptake by an arctic ericoid shrub (Vaccinium vitis-idaea). Mycologia 102(4)
Horton IL, Clinton BD, Walker JF, Beier CM, and ET Nielsen (2009) Variation in soil and forest flooe characteristics along gradients of ericaceous, evergreen shrub cover in the southern Appalachians. Castanea 74(4): 340-352
Walker JF, Miller OK Jr, and JL Horton(2008) Seasonal dynamics of ectomycorrhizal fungus assemblages on oak seedlings in the southeastern Appalachian Mountains.
Walker JF, Miller OK Jr, and JL Horton (2005) Hyper-diversity of ectomycorrhizal fungus assemblages on in mixed forests in the southern Appalachian Mountains . Molecular Ecology 14: 829-838.
Beier CM, Horton JL, Walker JF , Clinton BD, and ET Nilsen (2005) Carbon limitation leads to suppression of first year oak seedlings beneath evergreen understory shrubs in Southern Appalachian hardwood forests. Plant Ecology 176: 131-142.
Walker JF and JL Parrent (2004) Molecular phylogenetic evidence for the mycorrhizal status of Tremellodendron (Sebinaceae) In: Fungi in forest ecosystems: systematics, diversity, and ecology. Cripps CL, editor. Memoirs of the New York Botanical Garden 89: 291-296.
Lei TT, Semones SW, Walker JF , Clinton BD, and ET Nilsen. (2002) Effects of Rhododendron maximum thickets on tree seed dispersal, seedling morphology and survivorship. International Journal of Plant Science 163(6): 991-1000.
Walker JF and OK Miller Jr (2002) Ectomycorrhizal sporphore distributions in a southeastern Appalachian mixed hardwood/conifer forest with thickets of Rhododendron maximum . Mycologia 94(2): 221-229.
Miller SL, McClean TM, Walker JF, and B Buyck. (2001) A molecular phylogeny of the Russulales including agaricoid, gasteroid and pleurotoid taxa. Mycologia 93(2):344-354.
Nilsen ET, Clinton BD, Lei TT, Miller OK Jr, Semones SW, and JF Walker. (2001) Does Rhododendron maximum L. (Ericaceae) reduce the availability of resources above and belowground for canopy tree seedlings? American Midland Naturalist 145: 325-343.
Walker JF , Miller OK Jr., Lei TT, Semones SW, Nilsen ET, and BD Clinton. (1999) Suppression of ectomycorrhizae on canopy tree seedlings in Rhododendron maximum L. (Ericaceae) thickets in the southern Appalachians . Mycorrhiza 9:49-56.
Nilsen ET, Walker JF , Miller OK Jr, Semones SW, Lei TT and BD Clinton . (1999) Inhibition of seedling survival under Rhododendron maximum (Ericaceae) : Could allelopathy be a cause ? American Journal of Botany 86(11): 1597-1605.
Walker JF (1998) The inhibitory effect of Rhododendron maximum L. (Ericaceae) thickets on mycorrhizal colonization of canopy tree seedlings. M.Sc. Thesis, Virginia Polytechnic and State University.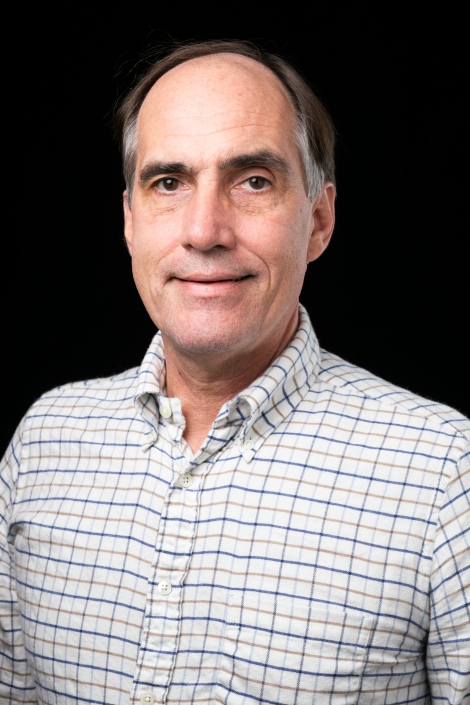 Title:

Adjunct Associate Professor , Mycorrhizal Ecology
Department:

Department of Biology

Email address: Email me

Phone: (828) 262-6906
Office address
Rankin West 270