David C. Nieman, DrPH, FACSM (niemandc@appstate.edu; (828) 773-0056
Director of NCRC Human Performance Lab
David Nieman is a professor in the Department of Biology, College of Arts and Sciences, at Appalachian State University, and director of the Human Performance Lab at the North Carolina Research Campus (NCRC) in Kannapolis, NC. Dr. Nieman is a pioneer in the research area of exercise and nutrition immunology, and helped establish that 1) regular moderate exercise lowers upper respiratory tract infection rates while improving immunosurveillance, 2) heavy exertion increases infection rates while causing transient changes in immune function, and 3) that carbohydrate and flavonoid ingestion by athletes attenuates exercise-induced inflammation. Dr. Nieman's current work is centered on investigating unique nutritional products as countermeasures to exercise- and obesity-induced immune dysfunction, inflammation, illness, and oxidative stress using a multi-omics approach. Dr. Nieman has received more than $10.9 million in research grants and published more than 370 peer-reviewed publications in journals and books. He is the Editor-in-Chief of the sports nutrition section of the journals Nutrients and Frontiers in Nutrition, and sits on 10 journal editorial boards including Medicine and Science in Sports and Exercise, and the International Journal of Sport Nutrition and Exercise Metabolism. Dr. Nieman's Google Scholar h-index is 101, and his publications have been cited more than 41,000 times (Dr. Nieman's Google Scholar Publications). He is the author of nine books on health, exercise science, and nutrition, including Nutritional Assessment (New York: McGraw-Hill, 2019, now in its 7th edition). Dr. Nieman served as vice-president of the American College of Sports Medicine (ACSM), president of SEACSM, and two terms as president of the International Society of Exercise and Immunology. Dr. Nieman received the "100 Scholars Faculty Research Award" from ASU in 1997, the Montoye Scholar Award from the Southeastern American College of Sports Medicine in 2006, the ASU College of Fine and Applied Arts researcher of the year award in 2006, ACSM's Citation Award in 2013, and represented ASU four times as the Oliver Max Gardner nominee (ASU's highest award). He was an acrobatic gymnast and coach for 10 years, and has run 58 marathons (PR 2:37) and ultramarathons.
Select Publications: Peer-Reviewed Research Articles, Review Papers, and Book Chapters
1. Nieman DC, Kohlmeier M, Simonson A, Sakaguchi CA, Sha W, Blevins T, Hattabaugh J. Acute ingestion of a mixed flavonoid and caffeine supplement increases energy expenditure and fat oxidation in adult women: A randomized, crossover clinical trial. Nutrients. 2019 Nov 5;11(11):2665.
2. Nieman DC, Valacchi G, Wentz LM, Ferrara F, Woodby B, Sakaguchi CA, Simonson A. Mixed flavonoid supplementation attenuates post-exercise plasma levels of protein carbonyls and 4-hydroxynonenal protein adduct levels in endurance athletes. Int J Sports Nutr Exerc Metab 2020;30:112-119.
3. Knab AM, Nieman DC, Zingaretti LM, Groen AJ, Pugachev A. Proteomic profiling and monitoring of training distress and illness in university swimmers during a 25-week competitive season. Front Exerc Physiol 2020;11:373.
4. Dudgeon WD, Nieman DC, Kelley E. Chapter 43: Exercise, Inflammation, and Respiratory. Lifestyle Medicine (3rd edition). Rippe JM (ed.). Boca Raton: CRC Press, May 22, 2019.
5. Sakaguichi CA, Nieman DC, Signini EF, Abreu RM, Catai AM. Metabolomics-based studies assessing exercise-induced alterations of the human metabolome: a systematic review. Metabolites 2019;9(8).
6. Merritt EK, Nieman DC, Toone BR, Groen A, Pugachev A. Proteomic markers of non-functional overreaching during the Race Across America (RAAM): A case study. Front Physiol. 2019;10:1410.
7. Chen J, Hamm L, Bundy JD, Kumbala DR, Bodana S, Sehgal C, Chen C-S, Starcke CC, Guo Y, Schaefer CM, Lustigova E, Mohone E, Vadalia AM, Livingston T, Obst K, Hernandez J, Bokhari SR, Kleinpeter M, Apple BA, Lukitsch I, He H, Nieman DC, He J. Nitrite, IsoquerCetin, and Endothelial Dysfunction Trial (NICE trial): Design and preliminary data. CJASN (in press).
8. Nieman DC, Pence BD. Exercise Immunology: Future Directions. J Sport Health Sci 2020;9:432-445.
9. Simpson RJ, Campbell JP, Gleeson M, Krüger K, Nieman DC, Pyne DB, Turner JE, Walsh NP. Can exercise affect immune function to increase susceptibility to infection? Exerc Immunol Rev. 2020;26:8-22.
10. Shi Y, Liu T, Nieman DC, Cui Y, Li F, Yang L, Shi H, Chen P. Aerobic exercise attenuates acute lung injury through NET inhibition. Front Immunol. 2020 Mar 19;11:409.
11. Schader J, Haid M, Cecil A, Schoenfeld J, Halle M, Pfeufer A, Adamski J, Nieman DC, Scherr J. Metabolite shifts induced by marathon race competition differ between athletes based on level of fitness and performance – a substudy of the Enzy-MagIC study. Metabolites 2020;10:87.
12. Schoenfeld J, Schindler MJ, Haller B, Holdenrieder S, Nieman DC, Halle M, Gerche AL, Scherr J. Prospective long-term follow-up analysis of the cardiovascular system in marathon runners: study design of the Pro-MagIC Study. BMJ Open Sp Ex Med 2020;6:e000786.
13. Betts JA, Gonzalez JT, Burke LM, Close GL, Garthe I, James LJ, Jeukendrup AE, Morton JP, Nieman DC, Peeling P, Phillips SM, Stellingwerff T, van Loon LJC, Williams C, Woolf K, Maughan RJ, Atkinson G. PRESENT 2020: Text expanding on the checklist for Proper Reporting of Evidence in Sport & Exercise Nutrition Trials. Int J Sport Nutr Exerc Metab 2020;in press.
14. Sakaguchi CA, Nieman DC, Signini EF, de Abreu PM, Silva DC, Rehdher-Santos P, Carosio MGA, Maria RM, Dato CC, Venancio T, Gerreira AG, Catai AM. Chronic influence of inspiratory muscle training at different intensities on the serum metabolome. Metabolites 2020;10:78.
15. Nieman DC, Groen AJ, Pugachev A, Simonson AJ, Polley K, James K, El-Khodor B, Varadharaj S, Hernández-Armenta C. Proteomics-based detection of immune dysfunction in an elite adventure athlete trekking across Antarctica. Proteomes 2020;8(1):4.
16. Nieman DC, Gillitt ND, Chen GY, Zhang Q, Sha W, Kay CD, Chandra P, Kay KL, Lila MA. Blueberry and banana consumption mitigate arachidonic, cytochrome p450 oxylipin generation during recovery from 75-km cycling: a randomized trial. Front Nutr 2020;7:121.
17. Hall CA, Richardson EJ, Broman-Fulks JJ, Canu WH, Nieman DC. Exercise frequency mediates the relation between anxiety sensitivity and emotion disorder symptomology. Sport Exerc Perf Psyc (under review).
18. Nieman DC, Ferrara F, Pecorelli A, Woodby B, Hoyle AT, Simonson A, Valacchi G. Post-Exercise inflammasome activation and IL-1β production mitigated by flavonoid supplementation in cyclists. Int J Sport Nutr Exerc Metab (in press).
19. Nieman DC. COVID-19: A tocsin to our aging, unfit, corpulent, and immunodeficient society. J Sport Health Sci 2020; S2095-2546(20)30060-0.
20. Signini E, Nieman DC, Silva CD, Sakaguchi CA, Catai AM. Oxylipin response to acute and chronic exercise: a systematic review. Metabolites 2020;10:264.
21. Le Coutre J, Allison DB, Bassaganya-Riera J, Burlingame B, Brown AW, Dickson SL, van Eden W, Garssen J, Hontecillas R, Khoo SH, Knorr D, Kussman M, Magistretti PJ, Mehta T, Meule A Nieman DC, Rychlik M, Vogele C. Goals in nutrition Science 2015–2020. Front Nutr (in press).
22. Best TM, Roberts WO, Breslow RG, Denay KL, Turner M, Nieman DC. ACSM call to action statement: COVID-19: considerations for sports and physical activity. Curr Sports Med Rep 2020;19:326-328.
23. Ørtenblad N, Nielsen J, Gejl KD, Routledge HE, Morton JP, Close GL, Niemann DC, Bone JL, Burke LM. Comment on: "Changes in skeletal muscle glycogen content in professional soccer players before and after a match by a noninvasive MuscleSound® Technology. A cross sectional pilot study Nutrients 2020, 12(4), 971". Nutrients. 2020;12(7):E2070.
24. Nieman DC, Zwetsloot KA, Simonson AJ, Hoyle AT, Wang X, Nelson HK, Lefranc-Millot C, Guérin-Deremaux L. Effects of whey and pea protein supplementation on post-eccentric exercise muscle damage: a randomized trial. Nutrients 2020;12(8), 2382.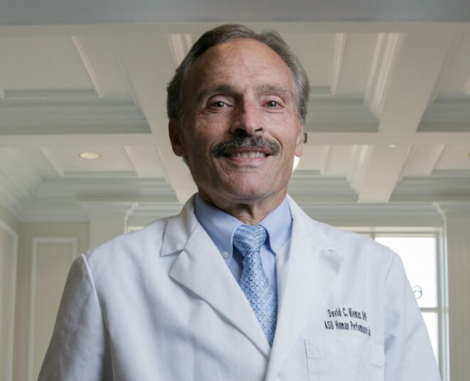 Title:

Professor, Director, Human Performance Laboratory, Exercise and Nutrition Immunology
Department:

Department of Biology

Email address: Email me

Phone: (828) 773-0056
Office address
North Carolina Research Campus
Mailing address
600 Laureate Way, Kannapolis, NC 28081