The People's Choice Award in the annual 3-minute-thesis competition went to Laura Ellis, a graduate student in biology from Swannanoa. Ellis spoke of research she is conducting to better understand how marine fishes eliminate nitrogenous waste. "My work is important in understanding how fish can adapt to our ever-changing oceans," she said. "Due to climate change, fish have to adapt to new changes in the oceans, including the increase of oceanic carbon dioxide. My work is the foundation upon which future ecological studies can be built."
Ellis' faculty mentor is Professor Sue Edwards. Ellis received a $250 award to support travel to an academic conference or assist with research expenses. She plans to pursue a Ph.D. following graduation from Appalachian.
You can read more about the competition here.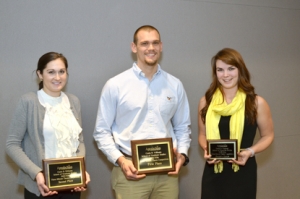 Tags: