Education:
Ph.D., Physiology, Virginia Commonwealth University Medical Center, Richmond, VA, USA, Thesis Mentor: Shyama Masilamani, Ph.D., 2007 – 2011
B.S., Biology, University of Mary Washington, Fredericksburg, VA, USA, 2004 – 2007
Professional Experience:
Assistant Professor, Appalachian State University, Department of Biology, North Carolina Research Campus, Kannapolis, NC, USA, Cardiorenal Physiology, 2020 – Present
Assistant Professor, Georgetown University, Department of Medicine, Washington, DC, USA, Cardiorenal Adaptations of Pregnancy, 2016 – 2020
Postdoctoral Fellow, Georgetown University, Department of Medicine, Washington, DC, USA, Immune Modulation of Blood Pressure, Mentor: Kathryn Sandberg, Ph.D., 2015 –2016
Postdoctoral Fellow, University of Florida, Department of Physiology & Functional Genomics, Gainesville, FL, USA, Renal Physiology, Mentor: Chris Baylis, Ph.D., 2011 – 2015
Areas of Interest:
Blood Pressure Regulation
Renal Physiology
Cardio/renal Adaptations to Pregnancy
Research Statement:
Dr. West is a broadly trained cardio/renal integrative physiologist specializing in the hormonal regulation of sodium balance and blood pressure homeostasis in health and disease. One of Dr. West's long-term research interests is to understand the role of renal sodium transporters/channels along the aldosterone sensitive distal nephron in the sodium retention, plasma volume expansion, and blood pressure regulation of pregnancy. This research provides the field of women's health with the base information necessary to better understand the plasma volume contracted pathologies of pregnancy such as preeclampsia and intrauterine growth restriction which are leading causes of perinatal morbidity and mortality.
Publications: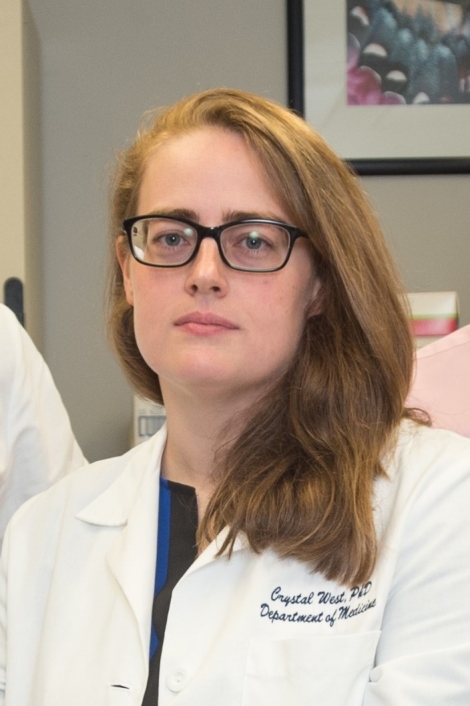 Title:

Assistant Professor
Department:

Department of Biology

Email address: Email me

Phone: (704) 250-5353
Office address
North Carolina Research Campus
Mailing address
150 N Research Campus Drive, Kannapolis, NC 28081