Fall Color Report: Week of August 29, 2010
Well, this past year has certainly been one for the books! We had a snowy winter here in Boone, but interestingly, no record cold temperatures or record snowfalls. We had an ice storm to beat all ice storms on Christmas Day which caused millions of dollars in damage from downed and broken tree limbs, not to mention lost tourism because of the impassable roads. In some places here in the High Country, snow stayed on the ground continuously from mid-December to mid-March, which is extremely unusual.
Then, after a warm April, we began our record setting warm summer. In fact, according to the Southeast Regional Climate Center ( http://www.sercc.com/perspectives ), the months of June, July and August were the warmest since the Boone station began keeping records in 1980! We broke single day temperature records eight times, by an average of 2.2°F. On April 7th, we smashed the previous record of 79°F by a whopping 6°F, the magnitude of which by itself might be a record! For the rest of the summer, it was the prolonged duration of elevated temperatures that made for our record warmth. In addition, while we were down 22% from our normal rainfall over the past six months (10th driest on record), we experienced no severe droughts. (see U.S. Drought Monitor Archives at http://www.drought.unl.edu/dm/archive.html ).
So, what does this portend for this year's fall leaf color displays? To tell you the truth, I have no idea. No one can predict how fall color will develop when the conditions leading up to it have been record breaking and unprecedented. The ice storm did do tremendous damage to thousands of trees, breaking off individual limbs and bringing down entire trees. Although most of this damage has been covered up by new leaf growth this summer, it is quite possible that it may negatively impact fall color this year in isolated locations where the damage was severe. However, from a landscape point of view, I do not think most people will notice any lingering effects on fall color intensity.
If you believe, as I do, that the month or so prior to fall color peak is the most important determinant of a good color year, then I think we may be on track for a good fall display. I say this because since late August, temperatures have moderated here in the mountains, and we are now experiencing sunny, dry days with cool nights, which is the perfect climatic set up for good fall color.
Hard as it might be to imagine, fall colors have already begun to show on some trees here in the High Country, although don't get too excited yet. The forests are still a deep green color, with only a tiny hint of color. The real fall color display will not start for a few more weeks up here.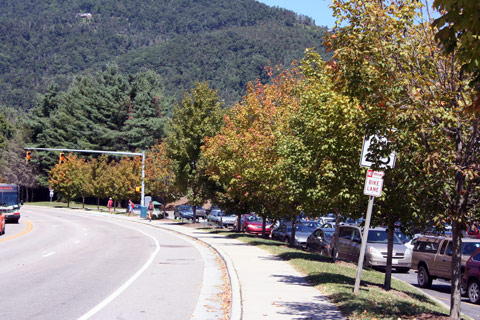 Sugar maples beginning to change on Rivers Street, Appalachian State University campus, August 30, 2010.
The earliest trees to turn color are the sugar maples (Acer saccharum) on the Appalachian State University campus, which started turning by the third week of August. Along Rivers Street in particular, some of these maples are already approaching their peak and it's not even Labor Day yet! This unique phenomenon occurs every year here in Boone, for reasons not well understood. It's not just that these trees are planted along the road, with little space for their roots, because trees growing away from the road, with unrestricted root growth, are also showing color now, as are others scattered throughout Watauga County. Whatever the reason, these trees are always the harbingers of fall leaf color here in the High Country.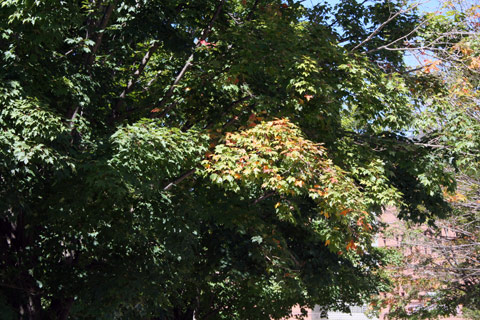 An example of "flagging", Appalachian State University campus, August 30, 2010.
Red maples (Acer rubrum) are also beginning to turn now, and one can notice isolated branches with deep red to orange leaves standing out against the rest of the canopy, which is still bright green. This is something we foresters call "flagging". We don't know why some branches begin to show color before others, but some say that leaves receiving more light turn color earlier. Most of the flagged branches I've noticed are on the east-northeast side of trees, where they get morning and early afternoon sun.
Another tree that loses leaves early is the yellow buckeye (Aesculus flava). This plant is subject to a leaf fungus (Guignardia aesculi) that causes brown splotches on the leaves and petioles (the small stem that attaches a leaf to the tree). By late August most of the leaves have turned completely brown and they fall off in great numbers prematurely. Another species that loses leaves early is the Black locust (Robinia pseudoacacia). If you drive any road from Pennsylvania on down to Georgia, you will see vast swaths of these trees with dead and brown leaves. The culprit is the locust leaf miner (Odontota dorsalis), a native insect (a beetle, technically) that carves tunnels out between the upper and lower leaf surfaces, and in the process eats the leaf from the inside out. Like the buckeye fungus, this beetle does not appear to kill the tree, and both species spring back each year none the worse for the wear. These brown leaves are so distinctive that they can be used to identify these species from quite a distance on the landscape.
Black cherry (Prunus serotina) also loses leaves now, with most turning yellow or red with brown to deep purple speckles (sometimes called stippling) on the upper surface. Cherry is one of our more sensitive species to air pollution, so this could be due to exposure to elevated ozone concentrations, which causes premature leaf drop in trees. However, the ozone has not been particularly high this summer. In fact, the Department of Air Quality ( http://www.ncair.org/ ) reports no exceedances of the National Ambient Air Quality Standards (NAAQS) in the North Carolina Mountains this year.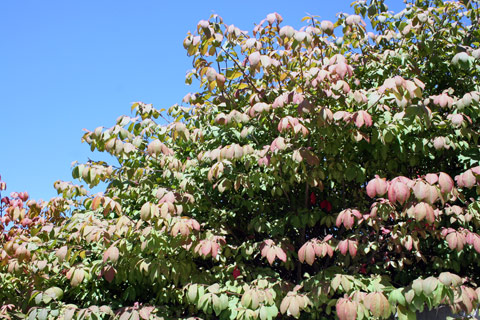 Burningbush beginning to turn red, Appalachian State University campus, August 30, 2010.
Other plants that have begun to show color already are poison ivy (Toxicodendron radicans), which turns yellow to red, Virginia creeper (Parthenocissus quinquefolia) which also turns deep red, and burningbush (Euonymus alatus) which is starting to show its red color now.
If the weather continues to cooperate, then we should expect a good fall color display this year. We do need to keep an eye on the hurricane situation though, because as leaf color develops, leaves become less well attached to the tree. This occurs because of the development of a layer of dead cells called the abscission layer that cuts off the supply of water and nutrients to a leaf. The high winds of a hurricane (or even just a good storm) can knock leaves off just as their color is peaking. Let's hope that doesn't happen this year!
The best conditions for good fall color are sunny, cool days, coupled with cool (but not freezing) nights for the month preceding October. If that happens, look for significant fall colors to begin developing in late September to early October and peaking in mid-October at the higher elevations (above 3,000'). Figure about a week to ten days later for each 1,000' lower elevations in the mountains, such as Asheville, and for sites further south, like the Joyce Kilmer Forest. Peak colors can last anywhere from one to two, and rarely three weeks, weather permitting. If you want to prolong fall color viewing, start at high elevations in the northeastern mountains (Watauga and Ashe Counties) and then move down in elevation (Asheville, Highlands) and then south (Joyce Kilmer). If you do that you should be able to have four or five weekends of great fall color, not to mention a great set of trips to our western mountains!
Each week this fall, I'll keep you up-to-date on fall color development in the mountains, plus I'll add in scientific commentary on factors affecting fall color. This year's topics will include the impacts of global change (both temperature and carbon dioxide levels), altered nitrogen deposition, and air pollution, among others. If you have a topic you'd like me to explore regarding fall leaf color, plant physiology or ecology, please send me an email at neufeldhs@appstate.edu and I'll research your question and get back to you as soon as I can.
Have an enjoyable Labor Day weekend, and maybe we'll see you up here looking at our great fall colors!
Note: This week's essay benefited from the assistance of Heather Dinon, graduate research assistant at the State Climate Office of North Carolina at North Carolina State University, Raleigh, NC, and from Ginger Kelly, graduate assistant in the Department of Geography and Planning here at Appalachian in beautiful Boone, NC. Thanks Heather and Ginger!
And don't forget my blog at http://www.fallcolorguy.blogspot.com.